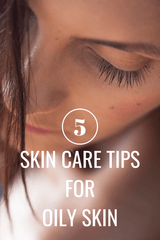 Disclosure: This post is Sponsored by Trophy Skin. Oily skin is my own with a lifetime of experience to provide the advice.
I've had oily skin my whole life. When I was in my teens and 20's I thought the best I could do was to always have blotting papers handy or to keep reapplying mattifying power. Sometimes keeping your skin routine simple is the best way to start improving your skin. Follow these tips, and you're on your way to diminishing the oil, keeping your pores clear and cutting down on the break-outs.
1. Take Your Makeup Off Each Night
This is a no-brainer, but also the lazy girl in me doesn't always abide by this very obvious skin care rule. Sometimes we're out late with friends and just want to crash in bed once home regardless of the full face of makeup and other times the wing on your cat eye is so on point that you want to try to keep it intact for a refresh the next day. (Trust me, I've been there.) Layers of makeup being rubbed into your skin while tossing and turning is just putting yourself in the fast lane to a breakout. Take the time to remove the makeup, it'll pay off.
2. Wash Your Face Daily
Washing your face, even if you weren't wearing makeup, is important for clearing away all of the environmental elements that can wreak havoc on our skin.
Use a cell phone?
You're rubbing dirt on the side of your face.
Touch your face during the day?
You're putting bacteria on your skin.
Only washed your sheets last week?
You're rolling around in dead skin. (Gross.) You get the point. A foaming face wash is best for oily skin as it'll cleanse away the excess sebum without stripping your face of the oils it needs to stay hydrated.
3. Exfoliate Twice Per Week
Oily skin is more than just a greasy face. It means clogged pores, being prone to breakouts and blackheads in what seems like an endless cycle. While cleansing your face is key to preventing breakouts,
exfoliation
is the best friend you never knew you needed. Unclogging your pores helps prevent larger pores in the future (and no, you cannot turn back time on your pores - once they're large, there is no magic method to shrink them.) If you're looking for a simple but effective way to do this, check out my
review of Trophy Skin's LaBelle Ultrasonic Skin Spatula
(and the promo code for 15% off.)
4. Wear a Gel-Based Moisturizer
Creams tend to be too heavy for oily skin and gels seem to provide the perfect amount of moisture. I love the light texture of a gel moisturizer and how quickly it absorbs into skin. Gels also give skin a bit of a mattifying effect instead of contributing to that highly coveted oil slick look. (Complete, and utter sarcasm.)
5. Wash Your Pillowcase Twice Per Week
Sure, we all know we should be washing our sheets at least once per week, but that pillowcase becomes a petri dish pretty quickly if not washed more frequently. Oils, not only from your face but your hair, blend in with shedding skin, bacteria and makeup (if you forgo tip #1) to create an environment ripe for pore clogging. While most skin experts say it's best to sleep on your back and avoid your face touching the pillow altogether, let's be real - those of us who sleep on our sides and bellies cannot change our ways (nor do we really want to.)
Prevention is key and unfortunately having oily skin means we have to put in a little more effort to keep our skin clear and blemish free - something our future selves will be grateful for.
Subscribe to A Girl's Gotta Spa!
 beauty blog. Watch our reviews on 
YouTube
, see our pins on 
Pinterest
 and check us out on 
Instagram
.