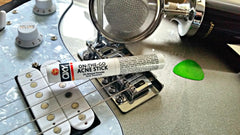 This is a sponsored post written on behalf of OXY Skincare. All opinions belong to my two teen-aged sons. (And trust me, they are very opinionated.)
Teen boys are a fickle bunch. I have 6 sons, so I kind of feel like an expert on the topic. There seems to be this clear point in their teen years when they go from not really caring too much about hygiene (where they appear to be raised by wolves) to using their, et hem, mom's hair products, skin care and acne products because... girls. I've talked about my two oldest sons, Gavin and Connor, before and how they turned to me to teach them about proper skin care because their skin was breaking out all of the time or was too dry/too oily. The thing is, these two could not be any more different in looks, personality, interests, etc. But they do share two common issues that plague most teenagers: breakouts and lack of consistency. Let's start with my oldest, Gavin. The date that this article will publish he'll be days away from graduating from high school, so I may be typing this through tear-filled eyes. Gavin is obssessed with anime, all things Japanese and cosplay. You can always find him with his tablet watching an episode and ready to discuss it with you at length (so you better not have anything to do for the next hour.) He's also the kid known at his high school to wear a lab coat as part of his daily attire even when it's hot out. He was a late bloomer when it came to the social scene, being on the Autism Spectrum (but he is the friendliest and funniest kid you will ever meet.) He's getting ready to go to college to become a chemistry teacher and I could not be prouder of my first born.
Despite their differences, both of them suffer from breakouts. (They would hate to know I just said they had something in common.) Ocassionally they will reach for the products I have out for them on the bathroom counter, but here's my pro tip if you have teenage boys: the easier the better. Boys tend not to be consistent with too many things; taking care of their skin is one of them. OXY is a brand I used in my teen years to treat my blemishes and there's a reason they're still around. They get what works.
Their new On-The-Go Acne Stick?
Works.
Why? Because it is super easy to use and small enough to fit in their pocket to encourage consistency of use. It also contains 5% benzoyl peroxide to effectively treat acne.
The OXY® On-The-Go Acne Stick is not only slim and compact in design, the acne treatment itself is a solid, so it avoids the use of any potentially messy liquids and creams. It also applies clear, so if they want to spot-treat breakouts on the go, no one is the wiser. This new acne treatment gets the approval of my boys, and I'm just glad it's one less thing I'll have to remind them about. The OXY® On-The-Go Acne Stick is now available at nationwide retailers, including Target, Rite Aid and online.
Will you pick up one for your son?
Subscribe to A Girl's Gotta Spa! beauty blog. Watch our reviews on YouTube, see our pins on Pinterest and check us out on Instagram. Got a Kindle? We're on Kindle too! This is a sponsored conversation written by me on behalf of OXY. The opinions and text are all mine.