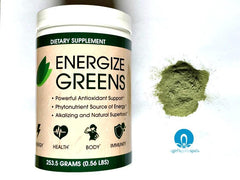 I am very much a fan of leading a healthy lifestyle.  I strongly believe that being active and eating a clean, well-balanced diet is the best way to prevent illnesses and look and feel your best and most energized. For the most part, in addition to working out regularly, I try to avoid caffeine and sugars and instead consume foods that are naturally energizing whenever I am feeling run down and like I need an extra boost of energy.
Energize Greens Dietary Supplement
 is a natural supplement of nutritious green superfoods that I have been using for the past two weeks that not only boosts my energy level, but also improves my health, alkalizes my body and b
oosts my immune system.
Energize Greens is a powerful combination of Spirulina, Nova Scotia Dulse, Chlorella, Barley and Wheat Grass, and Beet Juice.  These superfoods together have been proven to inhibit or prevent cancers and tumors in humans and animals, alkalize your body and keep your body's pH level between 7.35 and 7.45 , lower cholesterol levels by at least 50%, boost your immune system's resistance to harmful bacteria, viruses, and infections, reduce mortality risks from all types of cardiovascular disease and increase overall fitness and energy levels by 16% without doing any exercise.
In addition to the superfoods, Energize Greens also contains a blend of 29 other nutritious healing ingredients and vegetables such as alfalfa juice powder, wheat sprout powder, barley malt, brown rice bran, bee pollen, probiotic culture, spinach, parsley, enzymes like bromelain, papain, and pepsin - all of which are GMO-free.
Benefits of Alkalizing Your Body:
Improves skin texture Promotes a deeper, more restful sleep Increased natural physical energy Boosts your immune system Improves digestion Decreased susceptibility to arthritis Increased mental alertness
Energize Greens Dietary Supplement is incredibly effortless to consume.  It comes in a powder formula that can be easily combined with water.  I also love putting one scoop of it into my protein shakes, green smoothies or fresh pressed juices.  I have been taking this healthy supplement every day for the past two weeks and normally take it in the morning. Upon taking Energize Greens for the first time I immediately noticed an energy boost, like having a shot of espresso but without the crash that follows or the jittery feeling that I would normally experience with caffeine.  I have also noticed that my workouts are more effective, instead of taking long breaks in between my sets, I am better able to power through my workouts without feeling depleted. I know that my body is benefitting immensely from taking Energize Greens even though I may not be able to see and feel all of the benefits immediately.
As I've mentioned, it's only been two weeks since I have been incorporating it into my lifestyle and my body already feels rejuvenated, restored and more healthy and energized.  If for some reason you do not like the taste of the supplement with just water, it can be easily mixed with your healthy juices, shakes and smoothies so that you can get all of the benefits of this supplement. Receive 25% off your order of 4 bottles or more via this special link for A Girl's Gotta Spa! readers:
Energize Greens discount
Subscribe to A Girl's Gotta Spa!
 beauty blog. Watch our reviews on 
YouTube
, see our pins on 
Pinterest
 and check us out on 
Instagram
. Got a Kindle? 
We're on Kindle too
!