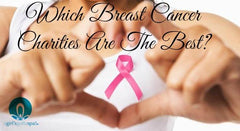 As a beauty blogger, I'm inundated in the months leading up to and during Breast Cancer Awareness Month with pitches for all sorts of beauty products. Each brand aligns itself with the goal of raising funds by donating a certain percentage to the cause.
I'm often discouraged when I see 10% assigned, or a vague statement and you're not really sure which charity the money is going to, or better still, that the money is going to a charity that spends more money on administrative costs than it does research and supporting the local community.
I get further disgusted when brands don themselves in pink ribbons with no identifiable percentage going to charity. It's all for the fanfare and targets uneducated consumers who will toss money at something in the name of a cause.
I recently watched a broadcast on my local TV station which was promoting the Susan G. Komen Race For the Cure. The spokesperson said, quite proudly, "100% of 25% of your donation goes to research." You got that, right? In other words, 75% of your donation does not support research for breast cancer nor does it go to support local women battling the disease.
As someone who knows plenty of women who have had breast cancer, as I'm sure you do too, it is disheartening. While I understand that administrative costs need to be paid, and 100% of your donation never goes directly to research, how can you find those charities that get very little promotion yet do the most for women with breast cancer?
I decided to dig deeper and came up with a list. This list is based on Charity Navigator's scores of the most highly rated. Highly rated means they are fiscally responsible and the majority of monies received go to research and supporting local branches. 
National Breast Cancer Foundation
Lynn Sage Breast Cancer Foundation
Of the few listed above, I know that many have a love-hate relationship with BCRF as it was founded by Evelyn Lauder, who coincidentally passed away from ovarian cancer but was a champion of women battling breast cancer. Many lament that Estee Lauder products have toxic chemicals in them that contribute to cancer and other illnesses. However, I think the brand and the charity are two separate entities, in my personal opinion.
As far as purchasing products that donate a portion of the proceeds to a breast cancer charity, I'm not really a fan. Again, a brand may align themselves with a charity like Susan G. Komen promising 10% of the purchase is donated to them. If what my local Komen representative said is true, then that means only 25% of 10% is then designated for research. I'm no math wiz, but I'm pretty sure that equals pennies. Wouldn't you rather take 100% of your money and donate it to charity?
That said, if you just so happen to be in the market for a new lipstick anyway and the charity is one of the ones mentioned above, then go for it. Why I won't be spotlighting BCA beauty products. I personally like to support my local community when it comes to breast cancer.
While the above charities are national, there are many worthy charities and support centers on a local level that do so much for people living with cancer. For example, The Center For Cancer Wellness, Candy's Place, here in Northeast PA is one of them. I strongly encourage you to look within your own community to find such gems who are focused on the health and wellness of your neighbor battling the disease.
So as the magazines and the media gear up for BCA, I ask that you share this post with others so that they can donate and get involved with charities that do the most for our loved ones battling breast cancer. If we give a spotlight to the charities that are lesser known, but doing more, I can only hope it will help more women. I'd love to hear your opinion!