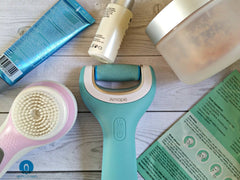 This post was sponsored by Amopé™ as part of an influencer activation for the #AmopeCrowd and Socialstars™. I received a complimentary product to facilitate this article, but all opinions are my own.
A set daily beauty routine didn't really become a habit until I was in my 30s. When I was a teenager, I didn't really think long term about caring for my skin. I certainly didn't look at cause and effect either (not washing your face = congested skin.) In my 20s, it was much of the same with a few adjustments (I knew moisturizer was a must.) Back in the "olden days" (as my kids like to say), skin care was no frills. We didn't have sonic cleansers or electronic pedicure files. Paper masks weren't a thing and SPF definitely wasn't part of your beauty routine. Something else I recall is that most advertisements and magazine articles focused on facial skin care while the rest of your body suffered the consequences. (I cringe thinking about what my heels looked like for too long.)
Once in my 30s and now in my 40s, I love to take care of my skin and view it as a form of wellness and self-care. So here's what my daily and weekly skin and body care look like:
Daily A.M. Face Care:
Cleanser, toner, 2% BHA treatment, serum, eye cream, Vitamin C treatment, moisturizer with SPF.
Daily P.M. Face Care:
Makeup remover, sonic skin care tool with cleanser, toner, serum, eye cream, night cream with Retinol.
Weekly Face Care:
Exfoliator, mask (paper/mud etc.), 4% BHA treatment
Daily Body Care:
Body wash, lotion (both day and night)
Weekly Body Care:
Exfoliator (sugar or salt scrub), 
Amopé™ Pedi Perfect Wet & Dry Rechargeable Foot File
(3x week)
I have to say that exfoliating is my favorite part of my routine. Not only does it give your skin a mini-massage, but it's kind of mesmerizing to exfoliate away dry, dead skin to reveal skin that is healthier. It's kind of like erasing a few years off. Where my skin care routine in my 20s only included a few items and was mainly focused at the beginning of my day and on my face only, it now includes anti-aging products and body care. I used to only throw some polish on my toes and call it a day. Now I can pamper my feet a few times a week with my Amopé™ Pedi Perfect and watch my skin soak up my lotion, keeping my feet touchably soft.
How has your daily beauty routine evolved through the years? Leave a comment and let me know!
Follow Amopé™ on
Facebook
!
Subscribe to A Girl's Gotta Spa!
 beauty blog. Watch our reviews on 
YouTube
, see our pins on 
Pinterest
 and check us out on 
Instagram
 and 
G+
. Got a Kindle? 
We're on Kindle too
!