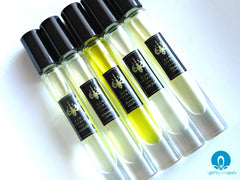 A heady scent featuring wild-harvested Australian sandalwood and a hint of the intoxicating floral note of Australian Boronia.
Prior to getting
Raw Spirit's Desert Blush
fragrance into my hands and (immediately, because OMG) onto my skin, I had never experienced the scent of Australian Boronia. As someone who is not really a fan of the earthy and woody fragrance of sandalwood, the sweet and floral aroma of the boronia literally MAKES this perfume. The floral scent is the perfect complement to the sandalwood, creating something so utterly inviting.
Desert Blush, like all of Raw Spirit's fragrances, comes in both a rollerball and eau de parfum. I've used both, but definitely like the convenience of the rollerball to be able to have control over the application amount as well as it being small enough to fit into my purse. Desert Blush (and all Raw Spirit fragrances) is marked as unisex, however, I do feel like this is a feminine scent. But as all perfume oils interact with everyone's body chemistry differently, you may find it smells differently for you.
While the perfume is simply encased in nondescript glass packaging, it really is the outter box that lures you in with its muted hues, gold embossed font and canvas texture. You feel like you are about to open something of substance. And more so, something you can't live without.
The Raw Spirit brand was inspired by Australian photographer Russell James' collaborative art project, Nomad Two Worlds, which explores the clash of ancient and modern cultures and celebrates the richness of Indigenous and marginalized communities around the world. You can learn more about how this brand came to life via their
about page
.
Other fragrances from Raw Spirit include:
Fire Tree: a sensual, unisex, smoky and sweet fragrance oil Wild Fire: a dry, woody, sensual scent Bijou Vert: a fresh fragrance with sensual depth Citadelle: a clean, refreshing fragrance Winter Oak: a smooth, creamy, warming scent Summer Rain: a fresh and invigorating citrus fragrance If you're not sure which fragrance would best suit you, they do offer a
Discovery Set
. If you have a Barneys New York nearest you, stop by their fragrance counter to experience these scents for yourself.
Subscribe to A Girl's Gotta Spa!
 beauty blog. Watch our reviews on 
YouTube
, see our pins on 
Pinterest
 and check us out on 
Instagram
 and 
G+
. Got a Kindle? 
We're on Kindle too
! Disclosure: Press samples