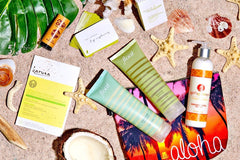 The Wanderlust, a subscription box by Bikini.com, is themed around destinations. Winter 2017/18 is Maui and A Girl's Gotta Spa! is thrilled to be a part of it! The Wanderlust is a quarterly subscription box that contains $250 worth of beauty, style, travel, and fitness products. You can either purchase a box individually for $75 or you can subscribe to all of their beach destination boxes for $250 annually.
Maui has full-sized items you are sure to love. We're so thrilled to be among many great brands with our Energizing Citrus
Body Lotion
. If you pop over to The Wanderlust, and scroll 3/4 way down, you'll be able to see which items are in the box. (Although they state that some boxes may vary.)
If you scoop up this box, I would love to hear from you! Tag us Instagram, Facebook, Pinterest and/or Twitter @agirlsgottaspa so we can hear your thoughts!
Get yours now:
Bikini.com The Wanderlust Maui
Subscribe to A Girl's Gotta Spa!
 beauty blog. Watch our reviews on 
YouTube
, see our pins on 
Pinterest
 and check us out on 
Instagram
. Got a Kindle? 
We're on Kindle too
! Or check out our 
natural bath and body
 line!