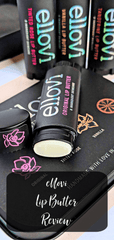 Inspired by the flavors of foods and flowers, ELLOVI has a line of vegan and cruelty free skin care you are sure to fall in love with. Which, it's no coincidence that the pronounciation of the brand literally spells out LOVE. I had the opportunity to try out their Lip Butter and their multi-tasking Butter for review.
ELLOVI Lip Butter
Lip balm has gotten an upgrade with ELLOVI. I absolutely adore the chic tin the
Lip Butter Collection
comes in and I love the sleek black packaging with a pop of color. If you happen to be applying these lip butters in a public place, you're sure to get noticed. They're anything but ordinary. The Lip Butter is formulated with only 6 ingredients, but there are 4 that are a constant in each flavor: Macadamia butter, shea butter, coconut oil, and sunflower seed wax. All provide hydration and don't feel sticky or cakey on your lips. Each Lip Butter has a hint of flavor and fragrance, which are naturally created. Original has marula and ylang ylang oil; Tinted Rose has Rose Absolute Oil and Akanet Root; Vanilla has vanilla and marula oil; and Tangerine has tangerine and ylang ylang oil. Lip Butter has good slip and makes your lips feel nourished. You don't need to purchase all of the Lip Butters in a tin, as they are also sold separately.
ELLOVI Butter
ELLOVI's Butter
is an amazing little multi-tasker meant for hands, feet, face, and hair. And it's actually not that little. It's 3.4 ounces in a substantial glass jar. This is my first time using a hemp-based beauty product (I know. I am so behind.) Like the Lip Butters, Butter is comprised of only a handful of ingredients: Hemp seed butter, arrowroot powder, marula oil, shea butter, cocoa butter, and peppermint oil. I received their Butter in Mint, and OMG, this Butter is minty and creamy like Breyers Mint Chocolate Chip Ice Cream. Like I literally wanted to scoop it out of the jar and eat it. But, since it's better suited for my skin, I passed.
Butter is very much a balm in terms of texture, but melts on your skin on contact. It is greasy when first applied, but is quickly absorbed into the skin. Since it is a balm, you don't need to apply as much as a lotion. A little scoop will thin out with your body heat and apply to a much wider area, so be conservative in how much you apply to your skin. Did I mention how good it smells??? I've been using it on my hands and they are so super soft. Elbows and knees are also in on this moisture party. I applied a very small amount through my hair once dry and it was a great de-frizzer without weighing my hair down. These are great products; definitely worth checking out!
www.ellovi.com
Subscribe to A Girl's Gotta Spa!
 beauty blog. Watch our reviews on 
YouTube
, see our pins on 
Pinterest
 and check us out on 
Instagram
. Got a Kindle? 
We're on Kindle too
! Or check out our 
natural bath and body
 line!