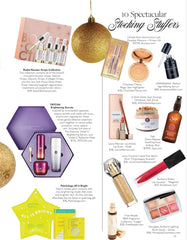 Oh spa girls, I am so excited right now! BELLA Magazine has featured A Girl's Gotta Spa! Synergy Himalayan Salt Scrub in their Gratitude issue!
On page 27, you'll find a list of 10 stocking stuffer ideas, including our super fab salt scrub!
Maybe you're new here, so let me tell you all about this amazing exfoliator.
synergy
/ˈsɪnədʒi/
noun
the interaction or cooperation of two or more substances that produce a combined effect greater than the sum of their separate effects.
via the Oxford Dictionary
Synergy has so many power driven ingredients to gently exfoliate and nourish your skin, leaving you with a next level glow.
Natural Body Scrub
As a body scrub that is 100% natural and Leaping Bunny certified cruelty free, under the lid you'll find Pink Himalayan Salt, safflower and sunflower seed oils, buds of lavender and cornflower mixed with lavender, jasmine, rose geranium, palmarosa and cedarwood oils.
The natural ingredients in Synergy hit every pain point - from tackling the flakes of dry skin to moisturizing it back to a silky softness; add in a known scar-fading ingredient and the aromatherapy powers of lavender to promote de-stressing - and you've discovered your new must-have.
If you haven't tried A Girl's Gotta Spa! Synergy Himalayan Salt Scrub yet, you are surely in for a treat!
Grab it here on our website (and look for the 10% off pop up!) or click on over to Amazon: https://amzn.to/2UHm6bT
BELLA Magazine can be found on newsstands and every Barnes and Nobles in the US. Go grab your copy today!
To stay in the loop regarding our bath and body line, please subscribe to our mailing list. Also check out our ever growing list of retailers that believe in our mission statement – You Deserve to be Pampered. Looking to sell A Girl's Gotta Spa! in your store? Please contact us!