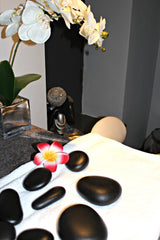 Hidden in the back streets of London just off Oxford Circus, an area so busy and full of tourists that you often feel like you're in an ant's nest trying to dodge everyone, is Marshall Street Spa. The spa is on the basement level of the Marshall Street Fitness Centre. Whilst at first I thought this an unusual place to have a spa, once I was through the doors of the spa, I felt like I was miles away from the hustle and bustle of the outside world. The spa is simple, clean and has everything you need - two saunas, a steam room, a relaxation area and large changing facilities.
I was greeted by a very friendly receptionist who gave me a tour of the facilities. I relaxed in the sauna before my treatment began - a 45 minute hot stone back, neck and shoulder massage. I have one word for this treatment - outstanding!!
My therapist understood that I was after a deep, effective massage. I've often visited spas asking and hoping for a deep massage that really gets into tight knots and relieves tension and have disappointingly received a 'pitter patter' attempt. But this was not the case at Marshall Street Spa.
If you've never had a hot stone massage before, it's worth trying. The massage starts out as a normal massage before the therapist places smooth water heated stones, one or two at a time, on your spine. The stones are left to rest for a short while and are then used as part of the massage in the palms of the therapist to melt away tension whilst the heat helps ease muscle stiffness. Other benefits include increased circulation and metabolism. The heat of the stones help muscles to relax which allows the therapist to access deeper muscle layers and provide a healing experience.
My therapist understood exactly what I needed, and using the silky-smooth almond oil and hot stones, massaged away the tension I was feeling. The spa uses Caudalie products and offers a range of treatments from massages to facials, waxing and eyelash tinting. The spa is very central and well located, especially for those who want to fit in a treatment after work or for tourists who are visiting the popular London West End. What better way to end a day of shopping in the capital than a luxurious spa experience at an affordable price! Visit
www.everyoneactive.com
for more information.
Subscribe to A Girl's Gotta Spa!
 beauty blog. Watch our reviews on 
YouTube
, see our pins on 
Pinterest
 and check us out on 
Instagram
. Got a Kindle? 
We're on Kindle too
!