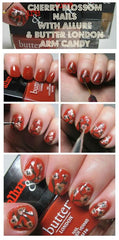 I'm loving all the rich Fall colors in the new Butter London x Allure collection!  I'm not yet ready for Fall, but I'm okay with winding down this hot, hot Summer.  So, let's do a mani of a typical Spring flower - the cherry blossom! What you'll need:
4 polishes - in this case, I used all Butter Londons:  It's Vintage for the base, Lust or Must? for the branches, I'm On The List for the petals, and Disco Nap for the center of the flower.
A dotting tool or two
A thin striping brush
The first step is laying down your base coat if you use one, and then applying your color.  It's Vintage is a rich, rusty orange-leaning red that is retro and classy. Next, take a striping brush, and lay down some branches.  They don't have to be perfect - your blossoms can cover a lot of mistakes! I do like to make sure that there are branches in different sections of the nail, though, so that the blossoms have some place to go all over the nail.  Lust or Must? is like melted chocolate on your fingertips. For the petals, I put some of I'm On The List onto a small palette, and used one of my larger dotting tools to make a 4- or 5-dot circular pattern.  This rose gold metallic works great for this because it has a natural shimmer that gives the flowers some dimension.  Plus, it's opaque enough to cover the branches in one coat. For the center of the flowers, I used my smallest dotting tool and some Disco Nap to make 2 or 3 small dots.  The silver glitter helps it catch the light, but the base is dark enough to stand out against I'm On The List. Add some top coat to help blend the layers together and protect your nail art, and you're done! Thank you to
Lit From Within
for creating this great nail art tutorial!
Subscribe to A Girl's Gotta Spa!
 beauty blog. Watch our reviews on 
YouTube
, see our pins on 
Pinterest
 and check us out on 
Instagram
. Got a Kindle? 
We're on Kindle too
! *Disclosure: affiliate links