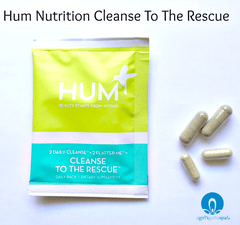 Detoxing and cleansing have now become a normal part of healthy lifestyle, and since I now live in Los Angeles it seems almost mandatory! I am all for a good cleanse/detox program, but I personally am not a fan of all juice cleanses or not eating.  I'll save you my laundry list of reasons, but I prefer eating actual solid, clean healthy foods, drinking a lot of water and green tea and taking my necessary vitamins and supplements. This is why I LOVED the
Hum Nutrition Cleanse to the Rescue 21 Day Cleanse
. Cleanse to the Rescue is a 21 day system designed to optimize digestion through the removal of toxins and assisting in the breakdown of nutrients.  The set contains 21 packets, each containing 4 capsules; 2 detox blend capsules called
Daily Cleanse
and 2
Flatter Me
capsules that contain an enzyme combination for digestion and a flatter tummy.  Daily Cleanse combines botanicals for clear skin, organic chlorella algae, bladderwrack kelp, beetroot and milk thistle work together to detox and protect your skin as well as liver, bowels, kidneys, lungs, and lymphatic system. Flatter Me contains an enzyme blend that supports all major phases of nutrient digestion. Optimized to breakdown protein, carb, fiber, and fats, Flatter Me helps relieve indigestion.
The Cleanse To The Rescue 21 Day Cleanse is super easy to use, just take one regular sized capsule before your two main meals. I took mine right before I sat down to eat lunch and dinner, then took the two larger capsules between meals without food. There is no weird aftertaste with these capsules, they actually smelled and tasted a bit like pineapples and I loved how convenient the packets were...no large bottles of juices to lug everywhere.  I never felt tired or fatigued or had headaches or any of the other negative side effects associated with most cleanses and this is one of the least expensive cleanses I have ever done.  Just $42 for the 21 day supply. My skin also cleared up and my belly bloat all but disappeared on this cleanse. One very odd thing that happened during this cleanse is that I could not stand the smell or taste of seafood or meat. I am not sure if this was due to the cleanse or if my body just decided it was tired of meat and seafood. I finished my cleanse yesterday and I still cannot stand the thought of seafood or meat and I've never felt better. Even though I've completed the Cleanse to the Rescue 21 Day Cleanse, I fully intend to purchase and continue taking the Daily Cleanse Capsules, I may also give Ripped Rooster, Pimp My Calcium and Beauty zzZz a try! The Hum Nutrition Cleanse to the Rescue is available online or at Sephora.
Have you tried Hum Nutrition yet?
Subscribe to A Girl's Gotta Spa!
 beauty blog. Watch our reviews on 
YouTube
, see our pins on 
Pinterest
 and check us out on 
Instagram
 and 
G+
. Got a Kindle? 
We're on Kindle too
!