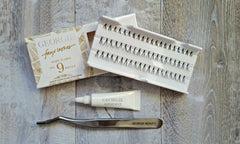 The best things come in small packages, and indeed this is true for these
false lashes
from Georgie Beauty! I've tried several types of fake lashes before from different brands and could never quite get them to work the way I wanted them to. Either they felt heavy, weighing down my natural lashes, or the band would have to keep being re-adjusted because I couldn't get it to lay right above my lash line or they kept poking the corner of my eye somehow. Then there was the lash adhesive. I had heard people rave about a popular brand and made my way down to my local CVS to pick it up. It was affordable and it had a brush applicator to make it easy to apply to the lash band. Unfortunately, it didn't stick well and sometimes within an hour the lashes began to lift. Was it due to the heaviness of the fake lashes I was wearing or did the adhesive just not work as well as it should have on its own? I couldn't tell, but it was frustrating as a faux lash amateur. Then there was applying them... fingers got sticky with glue, so then I tried tweezers, poked myself in the eye (that was fun.) I basically decided that fake lashes just weren't in the cards for me. It was disappointing to say the least. Then I saw this really great review from a fellow blogger,
Our Little Everything
, and it gave me hope that maybe Georgie Beauty could work for me.
When I saw how natural Georgie Beauty's Belle
Faux Lashes
looked on Lauren, I decided I needed to try them for myself. Belle is three rows of clustered wispy flares that range from small (top row), medium (middle row) and large (bottom row.) Small for the inner part of your eye, medium in the middle of the lash line and large for the outter corner. These wispy lashes have between 4-6 lashes per cluster depending on the size you choose. You apply them just above your own lashes, but not so much that it's obvious. I found that they blended really nice with my own lashes that by the end of the day when I went to take them off before bed, it was hard to tell which were fake and which were my own. Seriously! And that's what I loved, really, is that these lashes are naturalistic, they simply do not look fake once applied. I don't know about you, but at 42 years old, I would rather have faux lashes that enhance my own and make them look amazing, rather than wearing lashes that absolutely look fake. I've heard many people say that Georgie Beauty's non-toxic lash adhesive is simply the best. They were not lying! Wow, what a major difference between the one I was using before and theirs. No joke. I use their Lash Applicator to hold the lashes while I put a small dab of lash adhesive on them. Wait about 30 seconds and then place them. You still have a small window before it sets to make any adjustments as necessary (which I did have to do a few times since I'm not really a master at applying lashes yet.) The lash adhesive eventually dries clear (they also have a black lash adhesive for you pros out there) and does not interfere when applying your eyeliner. Georgie has a creme gel eyeliner (which I haven't tried), but I used a liquid liner and it worked perfectly.
So the best part?
The adhesive never faltered throughout the 10 hours I have been wearing these lashes each time. Not once! The lashes didn't lift, they didn't move, and I even rubbed my eye on accident and they remained intact. I was amazed!
Let's talk about Georgie Beauty's Lash Applicator. I sometimes see people refer to it as "tweezers," but it far from that. First, it is twice the size of tweezers (see top photo.) It's stainless steel, making it easy to clean off any adhesive. Since it's so big, but not awkward big, it makes visibility of what you are doing super easy. And lastly, the curved design means you will not poke yourself in the eye or lose a grip on your lashes. When taking off the Belle faux lashes, I didn't have to tug the lashes off and none of my own lashes came off in the process. The Lash Applicator was really easy to use to remove them. Additionally, since you can re-use these lashes 5-6 times if you remove the adhesive, I simply pinched the cluster flatly between my index finger and thumb and used the Lash Applicator the gently remove the adhesive from the end of the cluster and then placed them back in the box in their designated slots. Easy peasy! This is obviously the longest post you've gotten from me in a long time, and that should be evidence enough that I am completely wow'ed! If you haven't tried Georgie Beauty yet, I highly, highly recommend them! (PS. they are vegan and certified cruelty free too!)
Subscribe to A Girl's Gotta Spa!
 beauty blog. Watch our reviews on 
YouTube
, see our pins on 
Pinterest
 and check us out on 
Instagram
. Got a Kindle? 
We're on Kindle too
!