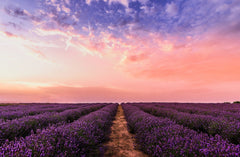 Have you ever visited a lavender farm during the blooming season? It's a memorable experience you won't soon forget. The calming fragrance will waft through the air leaving you feeling very mellow and in a complete state of relaxation.
Lavender
has always been synonymous with relaxation and stress relief, but it also represents refinement, grace and elegance. The violet color from lavender is considered delicate and precious. Lavender's medicinal benefits and pleasant aroma make it one of the most used essential oils in the world. Because of this, we've rounded up some benefits of lavender for relaxation.
BENEFITS OF LAVENDER FOR RELAXATION
A Remedy for Anxiety Relief
Studies show that breathing in the scent of lavender or applying lavender oil can decrease anxiety and improve your mood by inducing a calming effect on the central nervous system. If you are struggling with anxiety or bouts of sadness (the non-clinical kind), mix lavender oil with a carrier oil (such as sunflower seed oil) and apply it to your skin or add it to your bath. It can help you to feel calm and improve your mood.
Lavender Improves Sleep Quality
Lavender is also a natural remedy for sleeplessness. Studies have shown that the scent of lavender can increase your sleep quality by 20%. Lavender may help quiet the brain and nervous system activity, which makes you feel relaxed and decreases the feeling of stress. By doing so, lavender can increase the time you spend in deep sleep. However, lavender cannot make you fall asleep, it is only an aid to induce relaxation. Mix a few drops of lavender essential oil with water in a spray bottle and lightly mist your pillow and linens before bed to see how it helps to improve your sleep quality.
Lavender Helps Relieve Pain
Lavender oil can also help you reduce pain. If you are struggling with headaches, try to put lavender essential oil in an aromatherapy diffuser or apply it to aromatherapy jewelry. You also can massage lavender essential oil (with a carrier oil) into the skin to relieve menstrual pain and cramps in the lower abdomen. A Girl's Gotta Spa! Synergy
Himalayan Salt Scrub
contains lavender essential oil and is a great way to take advantage of the aromatherapy and skin care benefits. If you have tried lavender essential oil before, please share your experience below.
Subscribe to A Girl's Gotta Spa!
 beauty blog. Watch our reviews on 
YouTube
, see our pins on 
Pinterest
 and check us out on 
Instagram
. Got a Kindle? 
We're on Kindle too
! Or check out our 
natural bath and body
 line!