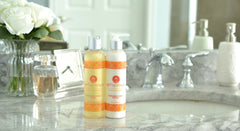 Something I've learned in my 8+ years of beauty blogging, is that many brands like to say they are something without any proof to back it.
Brands say they are natural, but the ingredient label tells a different story. Brands say they are organic because they assume you won't know that sometimes natural doesn't necessarily also mean organic.
Brands also say they are cruelty free knowing that there may not really be a way for you to know one way or another.
When I launched the A Girl's Gotta Spa! bath and body line, I wanted to make sure you knew who we were and not have to guess.
A Girl's Gotta Spa! is a natural beauty brand. Our product pages clearly state how natural our products are so that you don't have to wonder. We are also transparent about our ingredients and have a page dedicated to telling you, in detail, what our products contain.
A Girl's Gotta Spa! products are vegan. Our initial products are vegan and it is our goal to try to keep future products vegan as well. If we can't for some reason or another (such as with a lip balm), the product page will clearly tell you so.
A Girl's Gotta Spa! does not test on animals, our ingredient suppliers do not test on animals and our manufacturer does not test on animals. While we do review all kinds of products on our beauty blog (and that may be confusing to some), I did not want to be the brand who tested on animals.
We now can officially back up this claim with our Leaping Bunny certification. You can find us listed in their Cruelty Free Consumer Shopping Guide. Our mission at A Girl's Gotta Spa! is to empower women to believe - You Deserve to Be Pampered - and we do this without harming any animals, without toxic ingredients and without harming the earth.
I hope you love our products as much as we do. If you have questions, please leave a comment or contact us.