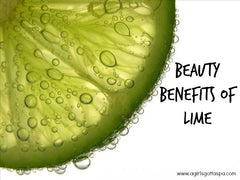 It may sound silly, but even though I don't drink, those Corona commercials snag my attention every time.
Sounds of the ocean, the sense of relaxation and the refreshing lime placed perfectly in the bottle neck. It's that lime that calls out to me saying, "Let me quench your thirst."
The same could be said for lime in beauty products, because it has so many benefits.
Lime essential oil is a natural astringent and clears oily skin, so it is perfect for acne prone skin. When used in body care, such as A Girl's Gotta Spa! Energizing Citrus Body Wash, Body Lotion and Salt Scrub - be sure to use it where dirt and grime tend to build up the most, such as your back or chest.
Sometimes the most obvious place to use it (your back) is often overlooked in the shower since you are already rinsing off with water or the shampoo trailing down your back. Plus, backs and chests need to be moisturized too!
The fragrance of lime when applied topically also revitalizes the senses and plays a part in mood. It creates clarity and mental focus.
And the same goes for the other citrus essential oils in A Girl's Gotta Spa! Energizing Citrus: grapefruit, lemon and orange. Lime, in addition to these other oils, are known to be uplifting. In a word, the fragrance is simply happy. (Que Pharrell here.)
As with any citrus oil, they do cause photosensitivity, so be sure to wear a good broad spectrum sunscreen when heading outdoors (which you should be doing as part of your anti-aging and skin cancer prevention regimen anyway!)
Subscribe to A Girl's Gotta Spa! Watch our reviews on YouTube, see our pins on Pinterest and check us out on Instagram.