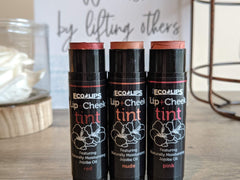 Eco Lips' Lip + Cheek Tints are truly a multi-tasking beauty balm that works as blush, lip color, and a contouring and highlighting tool.
They are vegan and cruelty-free and are made for all skin tones to provide a perfect pop of natural, sheer color to complement every beauty look.
Ingredients include organic jojoba, coconut oil, organic and fair-trade cocoa butter, and sunflower seed wax. So they're not just pretty to wear, they are hydrating, as well.
I've been wearing them for a few weeks, as I don't normally wear lipstick daily and typically wear a clear lip balm. I love that these balms make you look put together without any effort. They have a sweet scent/taste, too.
This is one beauty item you'll want in your beauty product arsenal. Here are 5 ways to use them:
Contouring
Glide the nude or pink along cheek bones, jawline and between the inner eye and nose for a contoured look.
Highlighting
Use nude for a subtle highlight on your cheekbones for a natural makeup look or if you just want a glowy complexion.
Lip Color
Looking for just the right pop of lightweight color? Try pink or red on your lips for a smooth, lip-nourishing look.
Cheek Color
Glide some red or pink on the apples of your cheek and rub in with your fingers. It goes on smooth and doesn't cake.
Eye Shadow
Try a bit of pink on your eye lids for subtle color. Nude could also work as a primer.
I've been loving the versatility of these Lip + Cheek Tints and I think you will, too. Find them at www.ecolips.com.
Subscribe to A Girl's Gotta Spa! beauty blog. Watch our reviews on YouTube, see our pins on Pinterest and check us out on Instagram. Or check out our natural bath and body line!