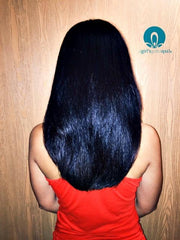 Anyone who is of mixed ethnicities knows how hard it is to find shampoos and conditioners for our hair types. I'm always on the look out for products that will keep my hair healthy, smooth, moisturized and soft. My mixed ethnicity (Afro-Guyanese, Indonesian, Amerindian and Portuguese), sometimes makes it difficult to find a product that works well for my hair type. Although my hair is thick and coarse, most products that are extra moisturizing tend to leave my hair oily and flat or sometimes even adds more frizz and leaves it feeling dry. Not so with HASK products! With exotic oils like Argan, Macadamia and Manoi and using high quality ingredients, HASK provides
"high performance, salon quality results at an affordable price."
HASK shampoos and conditioners are free of sulfates, parabens, drying alcohols, phthalates, gluten and artificial colors. And of course they do not test their products on animals! My kit included the
Macadamia Oil Shampoo
and
Conditioner
,
Moisturizing Shine Oil
and Moisturizing Deep Conditioner. All of the Macadamia products are made especially for dry, thirsty hair, smells fabulous and actually works!
I used the shampoo and conditioner, which are both thick and luxurious, left my hair feeling soft, silky, healthy and smelling so wonderful. Then I let my hair stewed for a bit (about 4 days), before using the Moisturizing Deep Conditioner. It's recommended to leave it in your hair for at least ten minutes, but after using the shampoo, I left it in for twenty minutes. Usually after using most deep conditioning treatments and rinsing it out, I still end up adding more conditioner to my hair, but with the
HASK Moisturizing Deep Conditioner
I didn't have to. My ends were a bit brittle from styling and this deep conditioner worked to make them soft again. My hair is thick and long, but the packet was enough for two treatments. My absolutely favorite product from the kit would have to be the Moisturizing Shine Oil. It's lightweight and absorbing, doesn't leave my hair greasy and my hair felt smooth and soft every time I used it, which has been every day since receiving it. And a little goes a long way so it will last for a while. I took it with me to Florida for a girl's vacation and everyone ended up using it. It definitely stood up to the Florida heat and humidity! You don't have to spend a fortune to have beautiful, healthy hair. With HASK products, you're sure to find something for your hair type and be happy with the results. Have you tried anything from the HASK hair care line?
Subscribe to A Girl's Gotta Spa!
 beauty blog. Watch our reviews on 
YouTube
, see our pins on 
Pinterest
 and check us out on 
Instagram
. Got a Kindle? 
We're on Kindle too
! Disclosure: Press sample, affiliate links