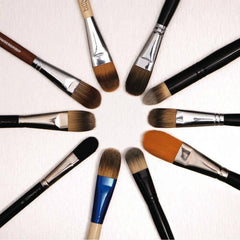 One part of our beauty routine that we tend to neglect quite often is ensuring that our makeup brushes are kept clean and bacteria free.  Dirty makeup brushes can transfer old makeup, germs, and bacteria to your skin each time you use them, so it is important to regularly wash your brushes to get rid of buildup. As a bonus, washing your brushes also makes them work better as well.  When it comes to cleaning my makeup brushes I will be the first to admit that I am absolutely clueless, so I decided to consult with an expert and consulted LA based Makeup Artist Lauren Snyder for her tips on cleaning and caring for makeup brushes.
A Girl's Gotta Spa!:
What are some of your favorite makeup brush cleaning tricks?
Lauren Synder:
 Mixing warm water with brush cleanser is a good way to make the cleanser a little more flexible when it comes to cleaning while also helping the product last longer. Products can be expensive so any way to make the most out of them helps. Another tip I have found useful is when using a cleanser, let the brush soak for only a couple of minutes. I mix warm water with the cleanser (pretty equal proportions) in a bowl, swirl and mix the brush for about 30 seconds, and then let the brush soak with the actual brush at an angle. I keep the brush at an angle because as long as there's movement in the brush, there's movement in the liquid, which means there's movement in the makeup that needs to come out. Movement is key when it comes not only to cleaning, but coverage as well. After the brush has soaked at an angle for a couple of minutes, I continue to work it through the cleanser just to quickly break anything up from soaking and then a very good rinse with the brush head facing directly under the faucet. Thoroughly dry with a towel and then I suggest letting the brush air dry overnight because no one likes unnecessary moisture. Especially when it comes to blending.
AGGS:
Which makeup brush cleansers would you recommend?
LS:
Neutrogena Cleansing Oil-Free Eye Makeup Remover
– I started using this almost on accident because I was out of
MAC Brush Cleanser
. It was the only liquid makeup remover I had that I could actually pour into a bowl and I didn't want to use up pure alcohol. After cleaning my foundation brush with it, I don't think I'll use anything else. The remover really gets into the brush without sitting in the head and also doesn't leave any residue. The best part is that the cleaner doesn't leave any scent either. Just like any cleanser, working the cleanser and the brush is crucial – the cleanser doesn't do all the work for you. Plus it's not nearly as expensive as most brush cleansers.
Parian Spirit Brush Cleaner
– This cleaner is a little more on the expensive side, but it's definitely worth the money. The liquid is fast acting and you don't have to put much muscle into cleaning the brush and making sure it's getting worked in throughout. Scent is a very subjective and preference based thing. With that being said, this cleanser has a fairly strong orange scent to it that will stay with your brush to some extent. While the orange is certainly a part of the cleanser that contributes to the actual cleaning, if you don't like the scent then it may not be for you.
AGGS:
Which brush cleansers do you think are not really worth the price?
LS:
MAC Brush Cleanser –This unfortunately is an overrated cleanser in my opinion. While there is no strong or lingering scent to it, that doesn't make up for the fact that is doesn't really clean brushes at all. In my opinion, it seemed more like I was giving my brushes a light rinse without actually doing anything, like removing makeup, bacteria, excess product, etc. It isn't a very expensive cleanser considering its size, but it is expensive considering it doesn't really do what it's supposed to do.
Lauren Snyder is an LA based Makeup Artist who has been doing makeup for film for six or seven years and specializes in  practical effects makeup artistry.
Have any makeup brush cleaning tips you want to add or a brush cleanser that has worked for you? Leave a comment and let us know!
Subscribe to A Girl's Gotta Spa!
 beauty blog. Watch our reviews on 
YouTube
, see our pins on 
Pinterest
 and check us out on 
Instagram
. Got a Kindle? 
We're on Kindle too
! *Disclosure: affiliate links