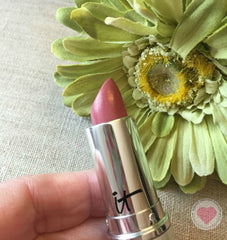 Is this new lip product from IT Cosmetics a gimmick or does it really work?
The product is called
Blurred Lines Smooth Fill Gel-Crème Lipstick
. This is the first ever actual lipstick formula from IT Cosmetics. It contains ingredients to improve the appearance of the lines in your lips. Upon application of the lipstick, your lip lines will be filled in and your lips will appear smooth thanks to the optical blurring ingredients. What a great anti-aging promise to those of us who need it! IT Cosmetics is known for the scientific technology used to create their line of cosmetics. Each product has ingredients that are beneficial to the area that it's being applied.
The Blurred Lines lipstick formula contains the following ingredients: collagen, peptides, hyaluronic spheres, shea butter, jojoba and grape seed extract. These are all good for hydration and have anti-aging properties. In addition, the lipstick has a built in primer. These lipsticks are designed to be worn day or night and to provide lasting lip color.
The Blurred Lines lipstick retails for $24 at Ulta. It can also be purchased on QVC for discounted bundle pricing. I purchased this product in the colors Naturally Pretty and Perfect Nude, both of which are in the lighter shade range from nine available options. Ulta also carries an exclusive shade called
It Girl
, which is a bright red. The product glides easily onto the lips. It deposits a nice amount of semi-sheer lip color, which is buildable to an opaque and glossy color. I chose two of the lighter colors from this collection and imagine that some of the darker shades have more color pay off.
The Verdict
: In my opinion the Blurred Lines lipstick from IT Cosmetics is just an average shiny lipstick. Unfortunately, these did not live up to their name for me. I could still see the lines in my lips. I didn't feel like the lines were filled in at all. In addition, the product wore off of my lips in an hour's time. It's possible that the darker colors may be longer lasting. I feel like there are many other lipsticks available on the market today that are superior to these. Sorry It Cosmetics! You have some of the best cosmetic products, but this one is more of a gimmick to me. Thanks to Stacie, a beauty and lifestyle blogger over at
Makeup Obsessed Mom
 for providing this post while I'm on maternity leave! She writes reviews of beauty products and shares tidbits from her busy life as a mom to three college students. Stop by to see what she's been trying out lately.
Subscribe to A Girl's Gotta Spa!
 beauty blog. Watch our reviews on 
YouTube
, see our pins on 
Pinterest
 and check us out on 
Instagram
. Got a Kindle? 
We're on Kindle too
!