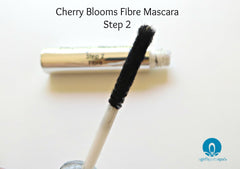 My lashes basically seem non-existent without mascara. They lack length and volume. I've tried so many mascaras in the pursuit of enviable lashes.
Maybe you can relate..?
False lashes have also made their way onto my vanity, and while I adore the *POW* they give my lashes (and I swear they make me look younger - yes, please!), I have to be honest and say that I am no pro when it comes to applying them. Not only does it take some skill to apply the lashes in a way that looks natural, you then need a steady hand to apply your eye liner in a way that doesn't look like you are trying to emulate that 70's disco vibe with a thick line. (Am I right??)
With the trend leaning towards fibre mascaras,
Cherry Blooms
piqued my interest. I've tried an all-in-one fibre mascara with Maybelline's
The Falsies
and did really like it, and I've also used
Physicians Formula Eye Booster
, which is similar to Cherry Blooms. But as we know, not all mascaras are created equal (or at least we tell ourselves that so that we can buy the latest and greatest new mascara.)
Cherry Blooms is a two-step fibre mascara. The mascara and fibres come in two separate bottles, although there is some transference of the fibres into the mascara bottle after using it for a period of time. The mascara itself is not a thick or clumpy formula; it's actually pretty thin and made of high grade beeswax. After one application (which is about 20 strokes), you then gently brush on the fibres. I didn't find that the fibres fell off the applicator onto my face at all, it simply remained on the wand until it touched my lashes. A definite plus since no one wants to wind up with fibres in their eyes. The directions say to use 15 strokes to apply the fibres, but I didn't find that I needed that at all. I did about 5 per eye, then applied the Transplanting Mascara Gel a second time, applied the fibres for a second time and then sealed it all with one last coat of the gel. Of course, you can skip the second coat of fibre, but I wanted a voluminous look to my lashes, not just length.
The difference is noticeable and I like how my lashes look natural, not fake-lashes-fake. You know what I mean? If I wanted a more date night dramatic look, I can always apply more coats of fibres and gel. And that's the best part - with a typical mascara you tend to get clumps the more you apply, but that's not the case with this buildable fibre mascara. Lastly, Cherry Blooms didn't smudge or rub off. Removal was easy and didn't take my natural lashes with it - I just used
Herbacin Two-Phase Make-up Remover
.
I'd love to hear from you if you've tried this mascara!
Subscribe to A Girl's Gotta Spa!
 beauty blog. Watch our reviews on 
YouTube
, see our pins on 
Pinterest
 and check us out on 
Instagram
 and 
G+
. Got a Kindle? 
We're on Kindle too
! *Disclosure: Press sample