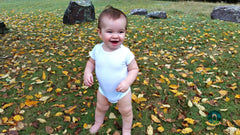 This post is sponsored by BabbleBoxx.com on behalf of Single Edition Media. Opinions are my own and the adorable baby is all mine.
Dear new and soon-to-be moms,
It can be difficult to navigate this crazy new season in life called motherhood and finding the perfect items for your baby all while taking care of yourself. Trust me, I've done it times 5. It starts with tons of research into the best products for your baby and lots of family and friend's weighing in with their opinion (sometimes helpful, sometimes not so much.) Then your little one comes along, and taking care of yourself goes on the backburner (oh girl, trust me, you say it won't, but it does despite your best efforts.) Being a mom of 5 boys - my oldest being 17 and my youngest just turning 1, I can sincerely say I know a thing or two about some must-have items. To start, here are my 5 boys. The only way to ever get them in the same picture at the same time is on the first day of school, otherwise, best of luck.
Whether this is your first baby or 5th, I hope stumbling upon this list is helpful in your search for your baby and yourself.
For Mom:
illumai biome care system
: After you have your baby, your hormones go crazy and this wreaks havoc on your hair and scalp. But something you may not know, is that during your pregnancy and after (if you are nursing), you still need to be vigilant about the ingredients in your hair and skin care products and that's what makes illumai a brand worth looking into. illumai 3-product system only contains 7 ingredients, and is formulated without sulfates, silicones, parabens, preservatives, and plasticizers. Their products are gluten-free, nut-free, 100% vegan and cruelty-free (PETA certified.) illumai works with every hair type, making it ideal for the whole family. They offer it in travel size (pictured above) and full size. And while you may associate natural hair care with herbal scents, this one is unlike any other. It has a perfume-like fragrance as you cleanse and condition your hair, which really is a mood-booster in the shower, but the scent dissapates over the course of the day so it is not overwhelming. This system is so well-designed for new moms, that I've asked them to give you a discount. Get 40% off either size of illumai biome care system - just use promocode 
44AGIRLSGOTTASPA
at checkout. Expires 10/31/2016.
Rainbow Light 35+ Mom & Baby Pre and Postnatal Vitamins
: When I found out I was pregnant with Ethan, I was 40 years old. There's a lot to consider when everyone tells you all of the scary statistics and being deemed a high-risk pregnancy. Nutrition to insure the health of my baby was my number one priority. Like, as soon as I peed on that stick and it said I was pregnant, I was out buying prenatals that afternoon. No joke. Rainbow Light vitamins are made with natural, purity-tested ingredients and NO artificial preservatives, colors, flavors or sweeteners. They're vegetarian and do not contain gluten, wheat, milk, tree nuts, peanuts, soy, eggs, fish, or shellfish.
Why is this important?
Because there are a lot of vitamins out there with filler ingredients. (Plus if you have an allergy, this is good info. to know!) Rainbow Light multivitamins can be taken on an empty stomach (yay!) and can be taken during and after pregnancy (if you plan to breastfeed, plan to keep taking your prenatals until you've weaned your baby.) Enjoy this discount code for 20% off on Rainbow Light Prenatals:
HappyBaby
For Baby:
Gerber® Onesies®: (OMG how freaking adorable does Ethan look for real???) This brand of onesie has been a staple for each of my boys as babies. So you could say that I basically have been in a relationship with Gerber® for 17 years now. Gerber® Onesies® are sooo soft with 100% knit cotton, so they are perfect for layering or simply to be worn alone on a hot day. Despite the fallen leaves in the photo above, it was 80 degrees when I snapped that pic of my sweet boy in his onesie. On warm nights, he wears his onesie so that he can sleep comfortably without overheating. During the colder weather, I use them for layering for warmth. Gerber® Onesies® are by far the most durable onesies and I love that they come in both short and long sleeves. Save on Gerber apparel at your favorite retailer with money-saving coupons to use in-store only: http://goo.gl/RYGA6D or order online at www.GerberChildrenswear.com now through 10/8/16 and receive FREE $6 STANDARD SHIPPING on your order. Use promo code
BBOXX16FS
at checkout.
FUJIFILM INSTAX Mini 70
: Be prepared, you will take lots and lots of pictures of your little one. They grow up so fast and they're only little once. While I'm all about my cell phone camera, I also like instant pictures. The INSTAX Mini 70 is the perfect size to have in your diaper bag or out at a party. It also offers selfie mode that automatically adjusts settings for perfect selfies of you and your little one. Ethan knows that when the camera comes out, it's time to pose. What was amazing to me, is that despite his constant movement, the pictures don't come out blurry at all.
Boudreaux's Butt Paste
: Diaper bag and changing table essential - diaper rash cream. I'm telling you, invest now! I highly recommend Boudreaux's Butt Paste as it is fast acting without the harsh ingredients. This diaper rash cream is free-from parabens, preservatives, dyes, phthalates and talc and comes in 3 targeted formulas: original (16% zinc oxide), extra strength (40% zinc oxide) and all natural.
So what makes this brand different from the rest?
First it's not thick or sticky, so it won't stick to your fingers. It looks thick in the tub, but as you apply it, it's very smooth like a cream. Since it won't stick to your fingers, it doesn't stick to baby's skin either - it simply creates a barrier. Honestly, there is nothing worse than a blowout that also requires you to rub your already irritated baby's skin because your diaper rash cream is stuck to his body.
Couldn't help but show how happy he is... and always moving.
TempTraq®
: This wearable Bluetooth enabled temperature monitor is a Godsend. When your baby is sick, he/she won't be sitting still long enough for you to take their temp, and if they're sleeping, the last thing you want to do is to wake them up to check if they have a fever. This thermometer adheres like a bandaid and sends information to the TempTraq® app that you can download to any Apple or Android phone. The patch is one-time use and good for 24 hours. TempTraq® notifies your smartphone when your child has a fever and also makes it very easy to email all of the data collected, directly to your child's pediatrician.
Have a tribe of children like myself?
The app can monitor multiple TempTraq® patches. (Because when one gets sick, they all get sick!) Very limited time discount - 10% off when you use code
BABBLEBOXX10
on their website.Offer Expires Oct 31, 2016.
Discovered something new? Have something to add?
Leave a comment and let me know!
Subscribe to A Girl's Gotta Spa!
 beauty blog. Watch our reviews on 
YouTube
, see our pins on 
Pinterest
 and check us out on 
Instagram
 and 
G+
. Got a Kindle? 
We're on Kindle too
!