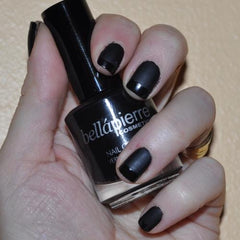 I'm always looking for new nail trends to try and one that I spotted recently that really caught my attention were Black Matte French Tips. And really, it makes sense. A French Manicure is always classy and black nails are a hot trend for Fall, so why not put them together for a chic look? We love it! There are two easy ways to create this look. If you can get your hands on Layla Ceramic Softouch in Noir Touch and Layla Ceramic Effect Nail Polish in Black Star, you can create this look in just 3 easy steps. 1. Apply a base coat of your choice. (We recommend
Orly Bonder Basecoat
) 2. Apply a smooth, even layer of
Layla Ceramic Softouch in Noir Touch
and careful not to go outside the lines or get it on your skin! 3. Just to the tip, apply
Layla Ceramic Effect Nail Polish in Black Star
.
Almost everyone has a mattifying top coat like
Essie Matte About You
that turns any color / any nail polish brand into a unglossy, matte finish. You will need this, tape and black nail polish for the next tutorial. 1. Apply an even layer of Bella Pierre Nail Polish in Ebony on all your nails. 2. Use a small piece of tape to cover just the tips of your nails. We recommend only doing 1-2 nails at a time. 3. Polish the remaining exposed portion of the nail with a matte top coat like Butter London or Essie. 4. Carefully remove the tape towards your cuticle so that the tape comes off in one piece and doesn?? tear. It is best to remove the tape before the matte top coat dries completely so that the tape will come off easier. 5. Do steps 2-4 on your remaining nails, doing just 1-2 nails at a time. Then, voila! You have a gorgeous French mani in just a few minutes. Now wasn't that easy? Here is our picture tutorial:
Thanks to
The Fashionable Housewife
for providing us with this awesome nail art tutorial!
Subscribe to A Girl's Gotta Spa!
 beauty blog. Watch our reviews on 
YouTube
, see our pins on 
Pinterest
 and check us out on 
Instagram
. Got a Kindle? 
We're on Kindle too
!