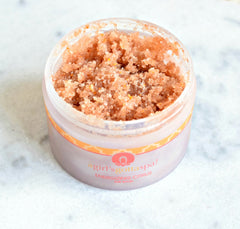 A year ago when A Girl's Gotta Spa! began the quest of producing the
best bath and body products
, this
exfoliating salt scrub
was the one I was looking forward to most. It's no secret that body scrubs are by far my most favorite skin care item due to the way it transforms your skin. Transformation is important when it comes to self-care. When you take the time for yourself, even to simply scrub away dull, dry skin, you make yourself a priority and that's important for your emotional well-being.
If you don't make the time to care for yourself, who else is going to?
Can we talk about how amazing this 10 oz. exfoliating body scrub is? As my fellow beauty blogger Christine from
15 Minute Beauty Fanatic
told me,
"I'm going to eat the scrub. OMG."
Now, please don't consume this product, but I don't blame you if that's the first thing that comes to mind. It is 100% natural, though, as well as vegan and Leaping Bunny certified cruelty free. The natural ingredients listed on the label are super easy to understand. Don't you hate when you look at a label and scratch your head at an ingredient? I aimed to make it as simple as possible. That's why if you see Prunus Amygdalus Dulcis, I let you know that's Sweet Almond Oil in paranthesis. Some of the incredible ingredients include: Dead Sea Salt, Avocado Oil, Rice Bran Oil, Beet Root, Green Tea and pure essential oils. So not only is the Energizing Citrus fragrance out of this world like ripe citrus fruit at the peak of freshness, the other natural ingredients are skin smoothing and hydrating.  
Exfoliating Body Scrub http://t.co/WHgSO4eZtG — A Girl's Gotta Spa! (@agirlsgottaspa) November 6, 2014
You want to look and feel your best and sometimes that can be difficult with everything you may have going on. Believe me, it happens to all of us (sometimes more often than we'd like to admit.) Give yourself just 5 minutes. It's too easy to neglect ourselves and become worn out, stressed out and run down. Rid your skin of environmental stress while treating yourself to some me time! 
You deserve to be pampered.
To stay in the loop regarding A Girl's Gotta Spa! bath and body line, please subscribe to our 
mailing list
 (you get 15% off your first order if you do!) Also check out our ever growing list of 
retailers
 that believe in our mission. Interested in becoming a retail partner? Please see our 
Wholesale
 page.