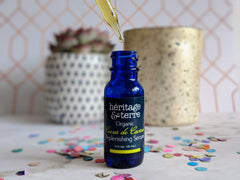 Fine lines and wrinkles, brown spots, dry skin... as we age, it seems like we suddenly have a plethora of skin issues to combat. As someone with "mature skin" (I honestly hate that term), I've discovered a prickly pear seed oil that has been doing wonders on my skin.
What is Prickly Pear Seed Oil?
Also known as cactus oil or barbary fig oil, it's an oil derived from the prickly pear, a member of the cactus family.
Found in Morocco, and other dry climates, it's an oil that is rich in essential fatty acids (EFA's), Vitamin E (Tocopherols), Phytosterols (water-binders) and Polyphenols (micronutrients.)
Face Oils Don't Equal Oily Skin
I'll be honest, prior to using heritage & terre's Coeur de Cactus, I never thought too much of how life-changing this antioxidant-rich oil would be.
Having combination skin most of my life, for a time I misunderstood the relationship between oils and oily skin. I thought oils/serums = increased and/or added to oily skin.
It took until my 30's to understand that there are products that cause the over-production of sebum (oily skin) - usually ingredients that were harsh on my skin and dry it out; and there are oils that kept it in perfect balance.
It was all a matter of educating myself and finding the right ones. A great face oil will give you what your skin needs, not make it oilier.
Cactus Oil Skin Benefits
Getting back to what makes prickly pear seed oil an amazing multi-tasker for mature skin.
Essential Fatty Acids: I mentioned this in my keratosis pilaris article, EFA's contain linoleic, oleic and palmitic acid. Acid is not a bad word here.
These acids help skin to stregthen its moisture barrier, repair and heal, and aids other beneficial skin care ingredients in better penetrating skin (e.g. helping your products to actually work for you and not against you.)
Vitamin E: This antoxidant is found in most anti-aging products for a reason. It's tried and true when it comes to helping fight environmental damage, tackling fine lines and wrinkles by way of keeping skin hydrated and protecting skin cells that make collagen and elastin (something we lose as we age.)
Phytosterols and Polyphenols: From helping to retain moisture to assisting in collagen production to preventing and treating sun damage (wrinkles, hyperpigmentation, loose skin, red and uneven skin tone, etc.), this is where prickly pear seed oil shines.
heritage & terre Coeur de Cactus
I use heritage & terre's cactus oil twice per day. For my a.m. routine, I use it as my sole moisturizer before applying my sunscreen. For my p.m. routine, I apply it before my Jan Marini Transformation Face Cream.
I've needed to use my concealer much less, because my skin isn't as ruddy. Brown spots seem a bit faded and not as evident. My skin has not been greasy or dry since using this serum regularly (6+ weeks at this point.)
The wrinkles on my face are bit more minimized and the lines around my eyes have softened. (Yes, I still have wrinkles...those never go away.)
I feel more confident on my non-makeup wearing days. You'd think as a beauty blogger I'd always been in a full face of makeup, but as in real life, that is not the case.
Just living life with a fresh face is refreshing and I don't feel like I have to hid under layers of makeup to treat all of my "flaws."
If you haven't yet tried this type of face oil, I highly recommend it. 2-3 drops is all you need.
Subscribe to A Girl's Gotta Spa! beauty blog. Watch our reviews on YouTube, see our pins on Pinterest and check us out on Instagram. Or check out our natural bath and body line!