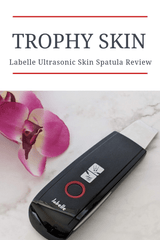 Disclosure: This post is sponsored by Trophy Skin. Review and opinions are my own.
Blackheads on my nose and chin have long been an issue for me since my teen years. Having oily skin for most of my life, and not a good skin care routine in my younger years, created a perfect storm for my pores.
Now in my mid-40's and losing skin elasticity by the day (it seems), means those large pores can appear even larger when clogged. Add in now having "mature skin" (yes, I am literally doing air quotes), means my skin has a tendency to get dry in some spots leaving my skin looking dull.
In between monthly spa facials, I began using Trophy Skin's LaBelle Ultrasonic Skin Spatula to unclog my pores, and exfoliate my skin without ever applying a scrub or mask to do so. If you've been wondering about this beauty tool, read on for my review!
What's Included:
The LaBelle device, charging adapter, storage case, and user manual. Mine also came with a promo for a free travel size skin care item (I plan to get their Argan Stem Cell Serum.)
How it Works:
The LaBelle Ultrasonic Skin Spatula is a professional grade extraction, exfoliation and infusion beauty device. It has two modes - scrubber mode and infusion mode.
Scrubber Mode is the mode in which you are exfoliating, deep cleaning and extracting dirt and debris; you do this with your face wet. But don't be fooled by the name - you aren't physically applying pressure to scrub your skin. The LaBelle does all of the work for you with ultrasonic waves moving at 30,000 Hz.

Infusion Mode is used after Scrubber Mode and aids in deeper infusion of your serum. You'll be able to accomplish both modes in under 5 minutes. Recommended use is 1-2 times per week the first few weeks and then 2-3 times per week once your skin is used to it.
My Review:
I wasn't sure what to expect of this skin spatula and I made sure not to read other reviews prior to using it so that I could form my own opinion on its use.
It easily fits in your hand and comes in a handy case for storage. My device was fully charged, so that made for a great out-of-the-box use. The manual is very easy to understand, so you don't have to be a professional to use this beauty device.
I was a little awkward the first time I used it when trying to make sure I was using the correct side of the device for scrubbing and then for infusion; I kept referring back to the manual as I used it. I even put way too much water on my face the first time causing the ultrasonic waves to gently bounce a spray of water into the air, scaring the life out of me and making me laugh out loud. My kids wondered what in the world I was up to.
After the first use, it was smooth sailing and I really liked that this was a super quick skin treatment and didn't require much from me.
Scrubber Mode
As you glide the spatula across your skin in Scrubber Mode, you'll watch the dirt and debris on your skin seem to effortlessly lift and find its way onto the spatula. It was oddly satisfying to watch, especially since I really wasn't doing any physical labor to make it happen. You do have to make sure to keep your skin wet when using it or you do feel the pulsing slightly. It doesn't hurt, but it makes you aware that the water has evaporated off your skin.
Scrubber Mode only took about 90 seconds to use - it's very quick! I paid special attention to my nose and chin since those are my main problem areas when it comes to blackheads and being prone to blemishes. You can use the device anywhere on your face, but you do have to keep it away from your eyes.
If you have an active breakout, you need to avoid that area as well. When you are done, make sure to wipe the spatula clean (it will have lots of gunk on it) and wash your face with warm water, patting dry when done.
Infusion Mode
This is the second button on the LaBelle Ultrasonic Skin Spatula. First pat on your favorite skin serum (do not rub it in as you want it lying wet atop your skin.) Next, press the Infusion button and lie the flat end of the spatula on your skin moving in circular motions.
Do not apply pressure as you do this, as the ultrasonic waves will do the work for you just like it does for Scrubber Mode. You'll begin to feel when the serum has absorbed as you move across your face. This mode took maybe 45-60 seconds at most.
Does the Skin Spatula Work?
I was pleasantly surprised at the difference in the appearance of my skin after the first use. I watched with my own eyes as it removed the dirt and oil, and then delivering my serum deeper really seemed to help soften some of my wrinkles due to being well-hydrated.
For the two months that I have had the chance to use this product, my face has not been dry at all and I haven't had a break out at all. I'm really impressed, but I almost feel guilty in a way because it was very little work to see such great results.
So does it work to improve your skin? It did for me! Try it for yourself at TrophySkin.com.