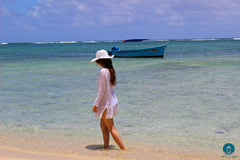 Leaving the north for a holiday in the sunny Southern Hemisphere is a tricky one. Not tricky in the sense that it's difficult to do - trust me, I could spend my days on the beach all day every day without a problem! But tricky in the sense that all you want to do is take in as many beautiful ocean views as possible while soaking up the sunshine yet, you know all the dangers of UV rays and the long term damage that each hour in the sun causes. I recently visited Mauritius and was reminded of not only the beauty of the island, but also the importance of looking after our skin in the baking hot sun. Whilst a sun-kissed look will last only a few weeks, the damage we do to our skin through sun exposure lasts years. Often sunscreen is not enough – we need a cover-up to aid in sun protection as well. The problem I find in warm climates is that the last thing you feel like doing is covering up completely - I mean, you're trying to cool down and it seems almost counterintuitive to add more layers. Am I right?
Thankfully, the cool, light fabrics of my
Sea Lily Hanna cover-up
and sarong helped solve this dilemma. Made from 100% cotton, these garments are a lifesaver if you want to make the most of the sun whilst still protecting your skin. Now, if the thought of covering up in the sun leaves you with terrifying flash backs of your mom smearing sunscreen all over your face and squeezing you into some dreadful nylon 'rashy', then fear not. Fashion has finally caught up with sun-smart wear and the Sea Lily range is full of fantastic beach and poolside resort style garments.
The Hanna cover-up has beautiful embroidered detail on the front and long sleeves to keep arms protected. It is the perfect 'day to night' piece as it can easily be teamed with some sandals and jewellery for summer evenings or thrown over a bikini during the daytime. Not only does Sea Lily have us rejoicing for allowing us to tick both the 'stay cool?' and 'stay cool?' criteria, but the brand is also dedicated to
coral reef conservation
.
This is something that is very close to my heart. In 2013 I was involved in a coral reef conservation program in the beautiful, tropical Indian Ocean island of Mauritius. We built coral farms with the aim of rebuilding the coral population on the coast of Mauritius and in doing so rebuilding the homes of many a sea creature. Sea Lily donates a portion of each sale to coral reef conservation and so it seemed only natural to return to the island with garments that support the cause I was involved with years ago.
As we go about our busy lives we may be unaware that coral reef destruction is a serious issue. The WWF believes that two-thirds of coral reefs are under threat worldwide, with
25% of coral reefs already considered damaged or beyond repair
. With coral reefs forming the home of a quarter of all marine life, coral reef destruction poses a massive threat to our oceans. Whether you are heading to the beach or preparing for a coastal getaway, why not make a special effort to look after the world whilst looking after your skin as well?
Subscribe to A Girl's Gotta Spa!
 beauty blog. Watch our reviews on 
YouTube
, see our pins on 
Pinterest
 and check us out on 
Instagram
. Got a Kindle? 
We're on Kindle too
!