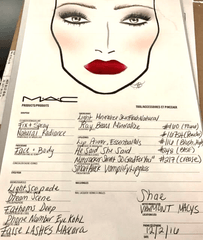 MAC Cosmetics recently opened at Macy's within
The Viewmont Mall
here in Northeast PA. I'm still very much a mall rat and you can find me roaming the stores here a few times a month in search of a great deal. I recently asked the makeup artists at MAC to put together a holiday makeup look for me to share (Thank you Shae!) I am all about that red lip in this look and those gorgeous smokey eyes!
Skin Prep
Step 1) Apply two or 3 spritzes of Fix+ Spray to prep the skin. Fix+ adds hydration to the skin, leaves skin feeling smooth and protected before applying foundation. Step 2) Apply Natural Radiance. Just two pumps massaged into the skin will help control oil production in the skin all day and mattifies for a flawless application.
Foundation Application
Step 1) Apply Face and Body Foundation with #160 brush. This is a sheer natural-satin finish foundation that moisturizes skin, gives up to 8 hours of flawless wear for any occasion and is transfer resistant. Step 2) Set the Face and Body foundation with #167 brush, lightly tapping Mineralize Skin Finish in the color of your choice (11 different shades) for a luminescent finish. It contains jojoba oil to help condition the skin. This can also be used to touch up during the day or night! Step 3) Highlight the high planes of the face (cheek bones, nose, forehead, cupid's bow, chin) with Mineral Skin Finish Highlight using the #116 brush for a glow. Step 4) Add warmth and a pop of color to the skin using Mineralized Blush and #116 brush. These blushes contain shimmer, which add dimension and shine to the cheeks.
Eyes + Lips
Eyes:
Step 1) For a festive sexy eye look for the holidays and a timeless look, apply the Nutcracker Sweet Eye Bag prolongwear paint pot that comes in the special holiday gift set called "Dream Scene" with a #248 brush, lightly applying a thin layer on eyelids. Next, use a #217 brush to apply eye shadow in the shade "Fathoms Deep" in the crease to add depth to the eye and it adds a smoky effect as well. Step 2) Apply False Lashes Maximizer. This is a smudge proof, clump proof, flake proof and all day wear that is used to prep, plump and thicken the lashes before mascara application. This product is also essential to conditioning lashes after false lash application (strip or individual lashes during wear or after.) Step 3) Use False Lashes Extreme Black Mascara - as many coats as needed for desired lash effect! This mascara gives volume and curl, is smudge and flake resistant, and comes in a waterproof formula. Step 4) Apply Kohl Eyeliner in "Phone Number" on the bottom waterline and lower lash line for a smokey effect.
Lips:
Step 1) Apply MAC Lip Primer on lips, which helps prep lips for all day wear, prevents lipstick from feathering and provides immediate conditioning and moisturization. Step 2) Apply Prolongwear Lip Pencil in "He Said She Said," along the lip line and fill in entire lip with liner to create a bed for your lipstick to lay on for all day wear. Step 3) Apply lipstick (Nutcracker Sweet "So Good for You") on the entire lip for a beautiful pout. Step 4) Apply Vamplify Lipgloss in the shade "Smart Aleck" on top of of lipstick for a beautiful plump look for the holidays! If you are local here in the Scranton area - stop into Macy's at
The Viewmont Mall
and drop by the MAC Cosmetics counter to see these products in person and get personalized recommendations from their makeup artists.
Subscribe to A Girl's Gotta Spa!
 beauty blog. Watch our reviews on 
YouTube
, see our pins on 
Pinterest
 and check us out on 
Instagram
. Got a Kindle? 
We're on Kindle too
!