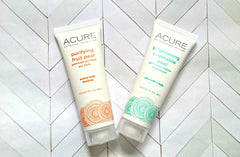 We all know consuming fruits and vegetables are essential to our overall health, but what about the benefits of applying them to our skin? If you have normal to dry skin, you may need hydration and exfoliation in order to brighten or if you have combination to oily skin, you may need a detox of the skin to bring your dull skin back to life. Either way, Acure Organics has an at home facial peel for you! As I've gotten older, my skin seems to be more sensitive to the change in seasons. It's now normal to dry for a longer period of time, with it becoming combination to oily only in the Summer. A few years ago, this wasn't the case, as it was combination to oily all year round. It's no secret that fruit and veggie enzymes are great exfoliators and have the antioxidants skin needs to fight free radicals. It's what's called a "chemical exfoliator" even though there are obviously no dangerous chemicals involved. The other type of exfoliator is a physical one and that involves ingredients that would scrub the skin manually (microbeads, sugar, salt, etc.)
Brightening Vegetable Peel
: This skin treatment is for normal to dry skin. It's a light green colored gel with a slight odor when you squeeze it out. The scent goes away rather quickly, though. While this peel has sugar cane in it, you definitely do not feel any granules. It's simply a gel that you smooth over the skin (vs scrubbing.) The other exfoliant in this peel is apple cider. Kale, spinach, and chlorella provide your skin with vitamins and hydration.
Purifying Fruit Peel
: This skin treatment is for combination to oily skin types. It has a slight orange hue to it and is also a thick gel consistency. I didn't really notice a scent with this peel. Papaya enzyme, bitter cherry and blue agave are the exfoliants that reveal the healthy skin underneath. This peel is chock full of fruit to get your skin glowing, like mango, raspberry, cranberry, bilberry and many more. To combat your oily skin, there's witch hazel, lemon and orange. The word peel is kind of tricky because the gel doesn't dry to the point that you peel it off your face, but it does peel away the layer of dead skin by dissolving it. For each peel, you leave it on for about 5 minutes and then rinse it off with warm water. If you have sensitive skin, then leave it on for less time. I did notice I had to rub my skin a little to get the gel off and had an easier time if I used a cotton washcloth. My skin always looked refreshed after using this peel. The tubes are only 1.4 oz, but you really don't need much product to apply as the thick gel thins out as you smooth it over your skin. Additionally, you only need to use this peel 1-2 times per week. So that tube should last you a good while. Acure Organics are vegan, sulfate and paraben free and Leaping Bunny certified cruelty free.
Have you tried any of their products yourself?
Subscribe to A Girl's Gotta Spa!
 beauty blog. Watch our reviews on 
YouTube
, see our pins on 
Pinterest
 and check us out on 
Instagram
. Got a Kindle? 
We're on Kindle too
!