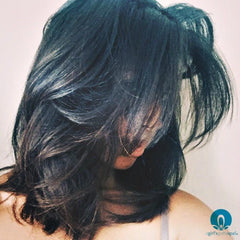 Don't miss the 20% off promo code below!!
My hair has not been at its best this summer.  Sun, salt water, humidity and heat, plus constant styling to battle the heat and humidity all tends to strip my hair leaving it looking and feeling dry and dull. This may sound a bit dramatic, but when I do not feel good about my hair, it can ruin my outlook on life...not kidding....and like I said, somewhat dramatic. Due to sweat and product build-up, I try to use deep cleansing shampoos in the summer, but while they do cleanse my hair, they also strip it of moisture.  What my hair required to battle summer damage was a deep cleansing shampoo that removes product build up and pollutants, but does not strip my hair, followed by a conditioner that is deeply moisturizing and repairing, yet does not weigh my hair down.
I found the perfect shampoo and conditioner combo to battle my summer damaged hair woes with Volé 's Revitalizing Shampoo and Volumizing Conditioner. The Revitalizing Shampoo contains a combination of moisturizing, nourishing, gentle cleansing and rejuvenating ingredients such as coconut-derived cleansers, eucalyptus, menthol, and avena sativa (wild oats). Thanks to the menthol, washing my hair with Volé 's Revitalizing Shampoo is incredibly invigorating and I absolutely LOVE shampooing in the morning (it's a lot more effective than a cup of coffee at waking me up.)  The
Revitalizing Shampoo
effectively cleans my hair and rids it of build-up without leaving it feeling like straw. The
Volumizing Conditioner
is now my absolute favorite hair product and is honestly the perfect conditioner.  It is deeply moisturizing without leaving my hair feeling weighed down, adds a lot of shine and leaves my hair soft and also really bouncy. I have also been trying
Volé 's Regen Serum
, which is supposed to promote hair growth, improve strength and rebalance the hair's lifecycle.  It's too soon to tell if it's working, but if the shampoo and conditioner are any indication of the Volé Hair System's effectiveness, I'm sure I will be more than happy with the results of the Regen Serum.
I feel as if I've finally found the perfect shampoo and conditioner combination for not only my summer hair concerns, but all of my hair concerns in general.  Thanks to Volé, I have a shampoo that effectively cleans my hair without leaving it dry and more damaged.  I also found a conditioner that actually repairs and improves the condition my hair.  The only thing I can ask from Volé is that they create more hair products with the same incredible performance as the shampoo and conditioner! Give it a try and treat yourself with this 20% off promo code at
www.volehair.com
: 
Girlsspa20
Subscribe to A Girl's Gotta Spa!
 beauty blog. Watch our reviews on 
YouTube
, see our pins on 
Pinterest
 and check us out on 
Instagram
.
 Got a Kindle? 
We're on Kindle too
!
Disclosure: press sample