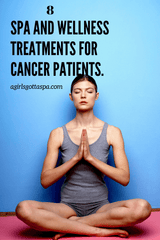 Cancer is an all encompassing disease. From the physical to the psychological, head to toe, cancer is a thief that tries to rob you of everything. While its toll on the body is most obvious, how it affects our mindset - not being in control of the cancer or the treatment - can get worn down. Here in the Poconos, cancer patients and survivors are blessed to have a
cancer wellness center
called
Candy's Place
that offers health and wellness treatments free of charge. It was because of this that I learned that treating cancer isn't just reserved for the hospital and doctor's office. If you don't have a cancer wellness center near you, look into these 8 nutrition, fitness and spa treatments you can take part in to treat your whole self during and after the battle with cancer.
Yoga
Yoga is beneficial for cancer patients as it helps to reduce stress and anxiety. It's not a secret that living with cancer can cause emotional distress. The more stress and anxiety, the worse your health becomes. Stress can lead to high blood pressure, immune system impairment, headaches, and more.
Beginners' yoga
is a wonderful place to start to alleviate stress if you are new to yoga.
Pilates
Pilates is another gentle form of exercise that can improve movement in cancer patients post-treatment. Whether you're currently living with cancer or are now cancer-free, Pilates can be beneficial as it can help patients overcome fatigue, improve physical function, and deal with other symptoms to improve the quality of life. The gentle stretching and toning of your muscles also helps to prevent muscle loss and atrophy during a long cancer battle.
Massage
Massage should be a must for cancer patients. Massage can not only help with pain in the muscles, but massage can also help combat nausea experienced in chemo patients. Massage also lowers anxiety levels and improves mood. Those that get regular massages have an overall feeling of well-being.
Acupuncture
Acupuncture also helps combat nausea and improves digestion. It can help with pain, fatigue, stress management, and emotional support. Those going through chemotherapy should definitely consider acupuncture treatments.
Meditation
Meditation improves feelings of well-being, combat stress and anxiety, and help cancer patients focus.
Meditation
can also aid in improved sleep. Cancer patients should start practicing meditation as soon as possible. You'll find that you regain control of your feelings and learn to live in the moment. This is something you can even begin right away in the comfort of your own home with apps like Calm and Head Space.
Facials
Chemotherapy can be hard on the skin. A facial can be a way to combat the damage to the skin. Hydrating facials are best for chemo patients and will help repair the skin by adding moisture. When booking your treatment, make sure the spa is aware that you are on chemotherapy so that they can help you choose the best treatment possible. They'll also be able to recommend a better skin care regimen, as your current one will no longer suit the change in your skin. (Try our
hydrating lotion
to treat dry skin on your body.)
Nutrition
It's not all massage and facials. You also need to focus on an improved diet during and after cancer. Cancer treatment has a lot of side effects, and nutrition plays an important role in lessening and combating these effects. Diets high in fruits, vegetables and protein are essential for cancer patients; calories play an important role as well. Ask your oncologist to get you connected with a nutritionist to guide you towards the right foods to eat to help alleviate side effects and keep your body healthy to win the battle against cancer.
Exercise
Lastly, you need to be active. Whether you do yoga or pilates or some other form of exercise, being active can help boost your mood, battle fatigue, and give you an overall sense of well-being. Get out and walk with a friend when possible, stretch and tone at home for 15 minutes a day with
resistance cords
equipment, petal on a stationary bike to get those endorphins going - anything to stay active. Cancer symptoms can be widespread and overwhelming. Unfortunately, treatments can be just as damaging. Chemotherapy has many unpleasant side effects. The good news is there are spa and wellness treatments for cancer patients that can improve your quality of life.
Subscribe to A Girl's Gotta Spa!
 beauty blog. Watch our reviews on 
YouTube
, see our pins on 
Pinterest
 and check us out on 
Instagram
. Got a Kindle? 
We're on Kindle too
! Or check out our 
natural bath and body
 line!