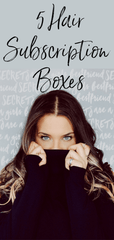 Let's face it. There is something incredibly exciting and fun about subscription boxes. Ipsy and the Target Beauty Box are extremely popular options, but what if you're more concerned about haircare? There are, believe it or not, some amazing hair subscription boxes out there.
Let's take a closer look.
1. eSalon Custom Hair Color Subscription Box While this box isn't full of surprises, it is filled with hair color that is customized just for you. Hair color experts will create colors just for your hair type. Best of all, it's only $25 for a single order, or $10 for your first order on the Color Plan.
The color is made using high-quality ingredients. If you want to color your hair, why not do it with color that is blended by true professionals personalized just for you? Check out our review of eSalon if you're on the fence.
2. Hairbox Hairbox is great if you love surprises. You start by choosing how often you want to receive your box, which can be monthly, bimonthly, or quarterly. You then fill out your hair profile and sit back and wait for your package to arrive. Products will be picked based on your hair type. The best part is that you get full-sized professional salon products! The price is only $39.99 per box and shipping is free.
3. CurlKit If you have natural hair, CurlKit is a must. You receive 6-9 samples per month that are made specifically for natural hair. The products may be from well-known companies or emerging brands. Each month, for only $25 and free shipping, you'll receive a variety of products ranging from conditioners to tools to help you embrace your curls.
4. How to Be a Redhead (H2BAR Box) Were you blessed with fiery red locks? Embrace the beauty of being a redhead with products made just for you. We love this box because it was launched by fellow beauty bloggers, Adrienne and Stephanie. Each month, for only $20.48, you'll receive samples and full-sized products that are tested and approved to be redhead-friendly.
5. Shtrands This hair subscription box was created by cosmetic chemists and includes 4 full size professional hair care products. The team can curate a box for all types of hair and textures. It's $59 per month, but if you sign up for their mailing list, you'll get a discount.
If you love trying new hair care products, try one of these hair subscription boxes. There are so many to choose from. Whether you want a specialized product or want to be surprised, you can find a hair subscription box that works for you.