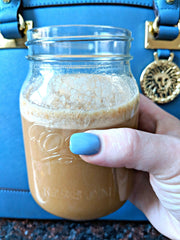 Disclosure: This post was sponsored by Medifast. All thoughts and opinions are my own.
(Medifast Cappuccino - so super delish)
I hate the word diet. Diet, to me, means going without. When you go without then that is all you can focus on. Can't eat chocolate? Now I want ALL the chocolate every chance I can get. Can't go out to that favorite restaurant? Now I want to camp out and basically live there. I prefer to look at weight loss as a lifestyle change.
Lifestyles changes are permanent, diets are temporary.
Whether or not you have the money to join a weight loss plan to make that lifestyle change (see below for some discounts for Medifast Go that might help), there are 5 things you can start doing right now to set you on the right path to lose weight.
Eat a high-protein breakfast
Protein is like the golden child of every weight loss plan. It boosts your metabolism, decreases hunger and as you are losing weight, adds lean muscle. Of course, you don't have to just eat protein, you can drink it, too.
Eat small meals every few hours
Eating smaller, healthy meals several times a day helps to maintain your blood sugar at a consistent level helping you to avoid energy crashes. It also means you feel full longer decreasing your chances or excessive snacking. Psychologically speaking, you may think that eating more often means you'll gain weight, but as long as it is low calorie, low fat, high protein and minerals, then it is much better than the potential for eating 3 large meals and snacking in between - because let's be honest here, snacking is what often does us in.
Decrease Stress
Easier said than done, but it's well known that stress can pack on the pounds. If you don't incorporate any form of stress management techniques into your day, then there is no time like now to do things like: download the Calm app to your phone, start going to bed earlier, learning basic
yoga
,
meditation
and even just exercising for 30 minutes a day. Some days just chasing my two year old around from room to room for 30 minutes straight and making a game of it counts as my exercise for the day - and it boosts both our moods, too.
Drink water before and after meals
I'm not a fan of water, however I've come to not mind it as much when adding Medifast's Calorie Burn Mixed Berry Flavor Infuser (it tastes so good!) Drinking water a half hour before a meal acts as an appetite suppressant because you feel fuller prior to your meal, helping you to either eat less or just the proper portion size. Since water has no calories (the flavor infuser I mentioned is only 5 calories btw), you avoid loading up on empty calories that would only contribute to weight gain.
Decrease sugar and starch
Oh the addiction to sugar is real my friends. Sugar gives you temporary pleasure, but then converts to fat and you have to work that much harder to lose it. Starchy foods also convert to sugar. When you significantly reduce them both, you'll begin to notice the pounds start to melt away. I say reduce because in the real world cutting them out entirely simply means you'll find a way to sneak them and overindulge. All of the above are steps you can take starting today to start your weight loss journey. There's no magic potion, only a committment to becoming healthy. I'm cheering you on! You can also follow my journey from the beginning:
How to Lose Weight at Home
What the First Few Weeks on Medifast are Really Like
How Medifast Works
How to Stick To Your Diet During the Holidays
Can You Cheat on Your Diet and Still Lose Weight?
If you're interested in joining me on this journey, you can get 7 days of free Medifast meals + bonus gifts + free shipping on your the first order as part of the renewal plan. Or for a limited time you can get 20% off any order of $300 or more + Free Shipping with promo code BIGDEAL20! Valid December 26, 2017 through January 2, 2018 at Midnight ET. *Average weight loss for Medifast Direct® customers using Medifast Go™ is 11 pounds. Medifast Direct customers are in weight loss, on average, for 8 weeks.
Subscribe to A Girl's Gotta Spa!
 beauty blog. Watch our reviews on 
YouTube
, see our pins on 
Pinterest
 and check us out on 
Instagram
. Got a Kindle? 
We're on Kindle too
! Or check out our 
natural bath and body
 line!