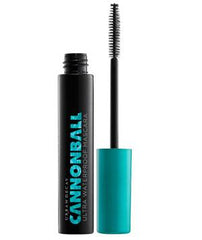 Guest beauty post from Prime Beauty Blog
Summer is in full swing and whether you're having a picnic in the park, watching a baseball game or splashing with the kids in the pool, you want your makeup to stay put and not end up dripping down your face. Lighten up your makeup routine for the summer months with these waterproof products:
1. Ditch your regular foundation and opt for a tinted moisturizer.
A tinted moisturizer serves a dual purpose providing much needed moisture and sheer color. It looks and feels lighter on your skin and eliminates the need for a separate moisturizer saving time for summer fun! Make sure to choose a tinted moisturizer with at least a SPF of 15. My picks:
Urban Decay Urban Defense, SPF 20($30)
and FusionBeauty Prime Results ($40). If you're looking for for more coverage, Laura Mercier's Tinted Moisturizer can't be beat!
2. Try waterproof eyeliner.
There is nothing that can make your eyes pop and come alive like colored eyeliner.
Make Up For Ever Aqua Liners
($23) come in 15 colors so you're sure to find a shade right for you. Aqua Liners are available in three finishes; Matte, Diamond and Iridescent. Go from a classic matte black cat eye look to a bright purple sparkling eye. These are completely waterproof and last through heat, humidity and a dip in the pool. They do NOT come off until you take them off. The stiff pointed tip applicator makes eye lining easy-peasy!
3. Use a waterproof mascara
so you don't end up looking like Snookie. I like 
L'Oreal Voluminous Million Lashes Waterproof Mascara
for long length. Although I haven't personally tried the new
Urban Decay Cannonball ($20),
it's getting fantastic reviews--no more raccoon eyes.
4. Benefit Cheek Stains ($29)
come in three smudge-proof, budge proof shades. I'm partial to the new Coral-ish
Cha Cha Tint
, (no surprise there),
Posie Tint
is a sweet pink and the original
Benetint
imparts a pretty natural red flush. The texture is a lightweight watery gel that gives yo time to blend. The packaging: a small jar with a brush applicator is the same for all three. Those who know me well know that I am a coral freak, however I really like the original Benetint for summer. It gives the cheeks such a nice natural glow--like you've playing beach volleyball/golf/tennis (insert your favorite sport here) in the sun. Pat several small dots along the cheekbone and blend with your fingers. These are supposed to be suitable for the lips too, but I find Benetint too thin for that.
5. A Waterproof Bronzer?
You betcha! Although I don't particularly advocate a full face of makeup for the beach or pool, but if you're super pale like me or are watching your sun exposure, you may want to use a bronzer. Get the Bronzed Goddess look without the sun damage with
Tarte Park Ave. Princess Matte Waterproof Bronzer
($29). This bronzer lives up to its claim, it truly is waterproof--I know I tested it in the shower! This is my favorite bronzer for fair skinned beauties like me so I was thrilled when they came out with a waterproof version last summer. For darker toned skin, Hourglass also makes a waterproof bronzer.
6. Tarte Amazonian Clay Waterproof Cream Eyeshadow
($22.80). They last all day, absolutely do NOT crease and come in five gorgeous shades. My favorites are Beach Bronze, Moss, Seashell Pink, Slate and Shimmering Plum--oops that's all of them! Again, while you probably wouldn't apply a full face of makeup to go to the beach, but how about when you're baking in the sun at a neighborhood BBQ? Or cocktails at a sidewalk bar?  You may be melting in the heat, but your makeup will look fresh!
7.
Stila Crush Lip and Cheek Stain
($24) these stains are fantastic! The texture is very thin, almost watery and they last and last. They come in 8 shades from the bronzy Coconut Crush to the bright Raspberry Crush. I love 
Mango or Raspberry
, bright, summery shades that look great with a tan!
My Summer Beauty 5 minute face
--A good tinted moisturizer with SPF, Tarte Park Ave. Princess Waterproof Bronzer on the high planes of the face, (where the sun would normally hit), a touch of Benetint blush, Tarte Amazonian Clay Waterproof Cream Eyeshadow in a neutral shades, Make Up For Ever Aqua Liner in a bright shade, Urban Decay Cannonball Waterproof Mascara & Stila Mango Crush Lip Stain. Now I'm prepared for summer heat, humidity and maybe getting throw in the pool!