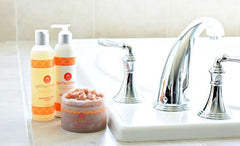 The concept of A Girl's Gotta Spa! began simple enough in 2005. I was 31 years old at the time. I moved from the suburbs of the Philadelphia area to the rural surroundings of the Pocono mountains just two years prior. I had 3 boys already and soon enough would be having a 4th.
The idea of taking time for myself was not a foreign concept, although one that seems to have some duplicity in the notion of it.
On the one hand you have people telling you that you need some me time, "Take some time for yourself," they'd say, "You deserve it." Then, on the other hand, you have people tsking you and accusing you of being selfish for doing so.
I believe you deserve to be pampered.
A Girl's Gotta Spa! ® was built on the belief that your personal well-being should be a priority.  A Girl's Gotta Spa! is a call to action, whether you are young or old, regardless of ethnicity or creed, working in the corporate world or busy raising the next generation of responsible leaders, you deserve to be pampered. I truly believe this and whether you are worn and withered from your career, your children, your spouse, your friendships, your finances and any other circumstance in your life (the good and the bad), I want you to believe it too.
The word pamper has been in my vocabulary for as long as I can remember. I even referred to my Great Grandfather as "pamper," not because I had any sort of speech issue, but because of the meaning of the word. To indulge with every intention, comfort and kindness.
Today A Girl's Gotta Spa! begins a new journey. One intended to meet your needs, both body and mind. A Girl's Gotta Spa! bath and body line is one that is natural and cruelty free. It's free of sulfates, formaldehyde, petrochemicals, synthetic colors and fragrances.  
Our products, Energizing Citrus Body Wash, Energizing Citrus Body Lotion, and Energizing Citrus Salt Scrub are vegan and natural with some organic ingredients. Crafted in small batches, the purity and quality of the ingredients will be an elucidation to your dry skin care woes and satiate your senses.
Energizing Citrus is an invigorating mix of pink grapefruit, lemon, lime and orange. The fragrance is not overwhelming, but more subtle in the sense that you can clearly distinguish each essential oil as you apply the products.
The Body Wash will leave your skin hydrated and silky smooth, the Body Lotion will leave skin looking and feeling soft and healthy and the Salt Scrub will make you wonder how you lived without it.
So I encourage you, take time for yourself today. Know that you are worth it. Know that you deserve to be pampered.
To stay in the loop regarding our bath and body line, please subscribe to our mailing list. Please also see our list of retailers.