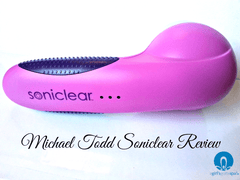 Sometimes getting to the spa for a deep cleansing facial isn't always an option. Thankfully there are plenty of beauty tools out there that can help your skin look its best regardless of your budget. The Michael Todd Soniclear and many of their skin care products are perfect for at home skin care when you can't make it to the spa. They now have some pretty cool designs with their Soniclear, adding a little pop to your vanity. (The one pictured above is called Pink Lady.)
I've used the competitor to this brand, the one with the spinning brush head, but I wasn't a fan. I found the competitor to be too rough on my skin and the brush heads would get dirty fast. What I like about the
Michael Todd Soniclear
is that the antimicrobial brush heads DO NOT spin, but instead use sonic-wave powered technology to micro-massage away dirt and other impurities and gently exfoliate at brush speeds in excess of 300 times per second. I still move it in a circular motion, but it is all within my control. It also has 3 brush speeds for the facial brush and 3 brush speeds for the body brush. Pictured above is the body brush, which is a decent size and larger and firmer than the facial brush. I tried all 3 speeds for my face and found that the slowest speed works best for me, especially on my nose to tackle those blackheads. I tried it at the fastest speed and it felt like it was tickling my nose and kept making me sneeze (it was hilarious.) I didn't take very good care of my skin when I was young, so the pores on my nose are pretty big (and unsightly) and unfortunately for me, as I age I lose collagen and the elasticity in my skin, which means the pores get a little bigger. For the record - you CANNOT open or close pores (I honestly hate that myth), but you can minimize their appearance by dissolving the hardened oil and debris (otherwise known as blackheads.) If you are in your teens or twenties reading this - PLEASE take care of your skin. Your older self will thank you. To use the Soniclear, you have to first charge it for a full 24 hours. Then with each charge it's good for about 12 uses until you have to charge it again. That's something I love as well, so that I don't have to charge it daily. To begin, you use the Soniclear for a set time for each quadrant of your face and so that you give equal attention to each part of your face and neck, the Soniclear will beep to alert you that it's time to move on. To clean your brush heads (and don't do it while you have the Soniclear turned on and running), you can either run them through water while still attached to the Soniclear or take them off and rinse them. They're antimicrobial, so that means you only need to change them every 6 months and they don't harbor bacteria the way other cleansing brushes do, which means you aren't reintroducing the bacteria to your face with each subsequent use.
Michael Todd offers a range of cleansers and scrubs that you can pair with your Soniclear and I tried two for the face and one for the body. First, Cleanse and Tone which is for normal to oily and combination skin. It utilizes charcoal to gently remove dirt, oil and other impurities without the drying effects of alcohol, as well as essential oils and antioxidants. It has a clean scent with a hint of citrus. The texture is thin and whether you use it with the Soniclear or just with your hands, it's gentle and works great.
The
Tropical Fruit Enzyme Exfoliant Scrub
utilizes fruit acids to gently dissolve dead skin to reveal a brighter complexion. As you can see from the picture, the texture is thick and it literally smells like a pina colada. It doesn't irritate my skin and I love how refreshing it feels. Although it says "without scrubbing," I do use this with my Soniclear and don't find it to be overdoing it. I find that with this scrub I tend to concentrate on my nose and chin, where I tend to breakout the most or have blackheads, and have been really happy with the results. I only use this scrub once a week (but I need more products in my life that smell this way.)
The
Walnut Grapefruit Polishing Scrub
is a body scrub that is liquidy thin but with a fine grit. The scent is like a Ruby Red grapefruit. I typically use a salt scrub as my body exfoliant, so the fine grit of this scrub was different for me. Not different in a bad way though, and when used with the body brush on the Soniclear, it worked remarkably well on my winter dry skin. And that's what's awesome about the Soniclear - it is waterproof, not just water resistent, but waterproof so I can bring it in the shower with me. (Naturally, wait until your Soniclear is dry before putting it back in the charger.) Other benefits of the Michael Todd brand is that they ship internationally, use organic ingredients and are cruelty free.
Have you tried the Soniclear or any of the cleansers mentioned?
Subscribe to A Girl's Gotta Spa!
 beauty blog. Watch our reviews on 
YouTube
, see our pins on 
Pinterest
 and check us out on 
Instagram
 and 
G+
. Got a Kindle? 
We're on Kindle too
! *Disclosure: Press samples