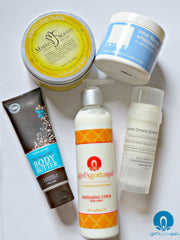 The best body lotions are the kind that leave your skin feeling soft and hydrated, not just for hours, but for days at a time. I am incredibly picky when it comes to my beauty products, and when it comes to body lotion, I need something that delivers.
Here's a few of the best body lotions
(according to my skin!)
Makes Scents Spiked Lemonade Body Butter
: The fragrance is bright and uplifting and the butter is creamy and decadent. This is a summer-only product, so if it is still available on their site when you are reading this, don't hesitate to buy it! LATHER Lotus Flower Whipped Body Creme: This velvety soft anti-oxidant rich moisturizer has an herbal floral fragrance. It is non-greasy, soothing and softening.
LAVANILA Vanilla Coconut Body Butter
: This body butter has a mousse-like texture that quickly absorbs and a scent that makes you want to take a beach vacation and never come back.
A Girl's Gotta Spa! Energizing Citrus Body Lotion
: Yes, shameless plug, but I honestly stand behind my amazing
natural body lotion
. It literally quenches the driest of skin and brings it back to the land of the living (which happens to be on your own private island with a butler.)
Faith, Soaps & Love Coconut Dreams Solid Lotion Bar
: Solid lotion in a tube is where it's at. My oldest son uses this on his elbows, as he is prone to pretty bad eczema there. Not making any medical claims, however when he uses this... the eczema becomes less and less. (You can see my review of their
handmade soaps
.)
What are some of the body lotions that you use?
Best Body Lotions http://t.co/2gSR9cTqrc — A Girl's Gotta Spa! (@agirlsgottaspa) January 13, 2015
Subscribe to A Girl's Gotta Spa!
 Watch our reviews on 
YouTube
, see our pins on 
Pinterest
 and check us out on 
Instagram
 and 
G+
. Got a Kindle? 
We're on Kindle too
! 
Shannon on G+