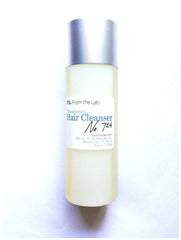 Right now my hair looks and feels dry, lackluster and just downright sad. I know that I could've taken better care of my hair, but sometimes it's much too easy to neglect my hair care routine and just disguise less than stellar hair with a cute braid or bun. Agreed? I decided to start the process of devoting more time to healthy hair by reevaluating the products I use to clean it.  A lot of shampoos actually have a drying effect on my hair (textured, curly) so finding an alternative to drying shampoos was my first order of business.
This first hair cleanser I tried in my quest to undo the havoc I've wreaked on my hair was a non-sudsing, oil-based shampoo called From the Lab Transforming Hair Cleanser No. 724.  This hair cleanser contains a combination of traditional oils and high tech stem sells that clean, condition and detangle hair.  I will admit that it was a challenge psychologically to get used to a cleanser that does not produce suds since that is what my brain has been conditioned to understand - suds = cleansing. However, my hair did feel really clean after using the Transforming Hair Cleanser No. 724 and once dried, my hair did feel less dry and brittle.  As I mentioned, if you are like me and are accustomed to seeing and feeling soapy suds when you shampoo your hair, this product will take some getting used to, but it does work and I would highly recommend it for naturally curly, textured hair like mine.
If you just can't see yourself cleaning your hair without soap or suds you may want to give Colorado Aromatics
Sage Angel Falls Conditioning Shampoo
a try.  Angel Falls shampoo is a natural shampoo with conditioners to soften hair.  The all natural, ecocertified, biodegradable surfactants in this shampoo are gentle on hair and will not strip your color. Plus the botanical extracts and Vitamin B contribute to both hair and scalp health.  I absolutely love the soothing, minty scent of this shampoo.  It seemed to gently cleanse my hair and left it feeling clean and refreshed without that stripped, dry feel.  What is great about this shampoo is that I can not only pronounce the all natural ingredients that it contains, but I also know what they are...a first for any shampoo I've used.
Another one of the hair cleansing products that I tried and positively loved was the Mane Choice "Give It To Me Straight" Moisturizing Shampoo.  This shampoo is infused with Moroccan Argan Oil to nourish, protect and hydrate hair.  It's gentle enough for chemically and color treated hair and even to clean extensions. It's free of parabens, sulfates and sodium chloride.  I  loved the delicious lemony cookie scent of this moisturizing shampoo and immediately after using it my hair felt softer and not at all dry or stripped. I especially like using the Mane Choice "Give It To Me Straight" Moisturizing Shampoo when I plan on blow drying or flat ironing my hair because it contains thermal protectants formulated to protect hair from straightening appliances.
All of the cleansers are cruelty free. I'd love to hear from you if you've used any of the above mentioned products - or to tell me about your favorite that I should check out!
Subscribe to A Girl's Gotta Spa!
 Watch our reviews on 
YouTube
, see our pins on 
Pinterest
 and check us out on 
Instagram
 and 
G+
. Got a Kindle? 
We're on Kindle too
! *Disclosure: Press Samples