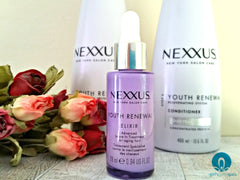 Sponsored by Mirum Shopper. All opinions are my own.
Lately I've been on the hunt for products that aim to treat my skin and hair for the issues I'm having as I age (not just things to make me look younger.) Being in my 40's comes with a plethora of issues that are both as a result of my actions when I was younger (or inaction in terms of taking care of my skin and hair) and the normal course of getting older. Yay me. I've used Nexxus hair system products in the past and I've been really happen with the results. So when I learned that you can get a 3-product full size set from Sam's Club for just around $26, I was game to check it out. While Sam's Club may be associated with large bulk items, it's also a great place to generally save on items that you love.
There are 6 different sets of Nexxus products that you can choose from that include a shampoo, conditioner and hair treatment. Or if you don't want all of the same products from the same collection, you have the ability to choose 3 different Nexxus items for the same price through their customized regimen. For example, you could purchase the Color Assure Vibrancy Shampoo and Conditioner, but then select the Promend Split End Binding Cream.
The 6 systems are:
Emergencee Damage Recovery System
: for weak and damaged hair
Oil Infinite Frizz Defying System
: for frizzy or unruly hair
Diametress Luscious Volume System
: for flat and fine hair
Color Assure Vibrancy Retention System
: for color treated hair
Youth Renewal Radiance System
: for fine and weakened hair
Promend Split End Bonding System
: for hair prone to split ends
If you type in Nexxus in the search bar on the Sam's Club website, each system will show up, as well as a way to customize your set. Choosing begins with conditioner, then shampoo and then a hair treatment. For this review, I chose the Youth Renewal Radiance since my hair is weakened from coloring and heat styling my hair. And while I have a lot of hair giving it the appearance of being thick, it's actually pretty fine. Nexxus Youth Renewal Radiance Shampoo, Conditioner and Elixir smell and feel incredible. The only way I can describe the fragrance is like a creamy, comforting lotion. The texture of the 3 also align with this as well - most especially the Elixir, which is a white serum that is dispersed through a dropper.
Youth Renewal Radiance Shampoo and conditioner both have ingredients like coconut oil, hydrolyzed elastin, keratin, pearl and wheat protein. The Elixir is also enriched with liquid pearl and concentrated 100% pure elastin protein. After use, each strand feels plumped up, incredibly soft, hydrated and shiny. Something I noticed after using these products, is that my thermal brush grips my hair better without ripping and breaking any strands as I am drying my hair. This means frizziness has decreased considerably and breakage from styling is way down. My hair looks great and I really love this hair system.
There's definitely a Nexxus hair system to solve your hair woes, and to save $16 on a bundle, head over to
Sam's Club
website to create yours now!
Leave a comment and let me know if you've tried any of these products from Nexxus yourself!
Subscribe to A Girl's Gotta Spa!
 beauty blog. Watch our reviews on 
YouTube
, see our pins on 
Pinterest
 and check us out on 
Instagram
.
 Got a Kindle? 
We're on Kindle too
!