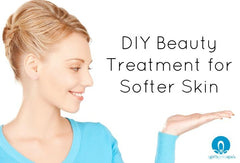 The Spa Director at The James Royal Palm's renew the spa in Miami Beach has shared with us an at-home beauty treatment that we think you will love! At renew the spa they have a wonderful Oat and Coconut treatment, perfect for restoring your skin's PH levels, and Spa Director Vivian Villamizar has shared how to make this at-home: 1.)    To begin, mix Epsom salt with pure virgin coconut oil to exfoliate any dry itchy areas on the body. The combination of the Epsom salt with the coconut oil replenishes the skin with trace minerals while hydrating it at the same time. This exfoliation can be done gently or vigorously. 2.)    Following the exfoliation, mix 2-3 tablespoons of oats and 2-3 tablespoons of coconut oil butter cream together and place them in a poultice bag. Heat the poultice in the microwave for 30 seconds or until you create a nice thick paste inside the bag. 3.)    Once it is heated, this poultice may be massaged, rolled and compressed all around the body. Not only do you get a nice heat coming from the poultice, but the paste will start spreading around your body which will heal and nourish your skin. The active ingredients from the oats and the coconut oil will help restore your skin's PH levels leaving your skin exfoliated and silky smooth. Let us know if you try it!
Subscribe to A Girl's Gotta Spa!
 beauty blog. Watch our reviews on 
YouTube
, see our pins on 
Pinterest
 and check us out on 
Instagram
 and 
G+
. Got a Kindle? 
We're on Kindle too
!