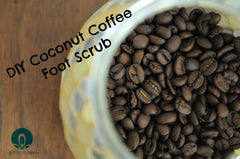 Carolyn Doe, spa director at 
The Umstead Hotel and Spa
 (Cary, N.C.) has whipped up a DIY 
Coconut Coffee Foot Scrub 
recipe
to soothe weary feet at home. The rich blend of antioxidant-filled coffee and moisture-locking coconut oil, combined with the refreshing scent of vanilla extract, is a perfect combination of natural ingredients to remove and repair rough skin.
Coconut Coffee Foot Scrub Recipe
1 cup     Virgin Coconut Oil
½ cup    Favorite Ground Coffee
1-2 tsp  Vanilla Extract
Method: 
Blend ingredients together. Prepare a tub of warm soapy water and soak feet for 10 minutes. While soaking, apply 1 teaspoon of the scrub to feet in a circular motion to exfoliate the dead skin away. Rinse feet in warm water and pat dry.  (Mixture can also be used as a body scrub in the shower, but take care as it can make for a slippery surface.) Store leftovers for later use in an air-tight container at room temperature. Not only is this scrub invigorating, your feet will feel incredibly soft and pampered.
Subscribe to A Girl's Gotta Spa!
 Watch our reviews on 
YouTube
, see our pins on 
Pinterest
 and check us out on 
Instagram
 and 
G+
. Got a Kindle? 
We're on Kindle too
! 
Shannon on G+