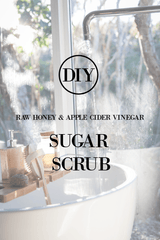 When temperatures are lower and the air is drier, skin cell growth tends to slow, but our skin still continues to shed skin cells and those dead skin cells can build up on our skin's surface. If your skin feels dry and scaly and looks dull all over, try adding exfoliation into your skin care routine. Cleansing, moisturizing and exfoliating will make your skin a lot happier and look a lot fresher. Removing that top layer of dead skin cells is essential for your moisturizer to work at its best. Natural ingredient exfoliators for the skin can be mixed together to create a simple treatment that will address dryness, redness, dullness and oiliness. Here's a recipe for a great combination of natural ingredients you might find in your own pantry.
DIY Raw Honey, Apple Cider Vinegar Sugar Scrub
Raw honey and granulated sugar exfoliate the skin without causing dryness. The apple cider vinegar helps cleanse the skin. This application is gentle but should still only be applied one to three times per week.
Ingredients
3 Tbsp raw honey 1 tsp apple cider vinegar 2 Tbsp sugar
Directions
Combine and apply to your face. Leave on for one to two minutes before gently washing off with a warm cloth. Thank you to the
Lantana Spa
at the
JW Marriott San Antonio Hill Country Resort & Spa
 for providing us with this DIY! The spa offers varied
treatments for relaxation and refreshment
of the face, the body and the soul.
Subscribe to A Girl's Gotta Spa!
 beauty blog. Watch our reviews on 
YouTube
, see our pins on 
Pinterest
 and check us out on 
Instagram
. Got a Kindle? 
We're on Kindle too
! Or check out our 
natural bath and body
 line!