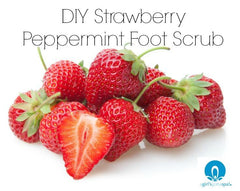 Give yourself a sensory experience while softening up your feet in preparation for an at-home pedi. Erika Katz, beauty expert and author of
Bonding over Beauty
, has created a DIY Strawberry Peppermint Foot Scrub that is the perfect mix of delicious fragrance and skin-softening ingredients! Just follow these simple simple steps and you'll have a soothing foot scrub in no time – now sit back and relax!
Strawberry Peppermint Foot Scrub
Ingredients:
2 cups pureed strawberries
1 tablespoon of olive oil
1 tablespoon of vegetable oil
2 tablespoons of granulated white sugar
4 drops peppermint essential oil
To Make:
Mix all the ingredients well and put into a pretty jar. It's great to use strawberries in this recipe because they are rich in salicylic acid which helps dead skin shed more easily. The sugar granules also help to exfoliate skin, but are super gentle on delicate skin. You can also keep this recipe in the fridge for up to one week. To use your scrub, simply rub your feet gently in a circular motion, rinse with warm water, and enjoy the results! Just try not to eat it!
Subscribe to A Girl's Gotta Spa!
 beauty blog. Watch our reviews on 
YouTube
, see our pins on 
Pinterest
 and check us out on 
Instagram
 and 
G+
. Got a Kindle? 
We're on Kindle too
! *Disclosure: affiliate link