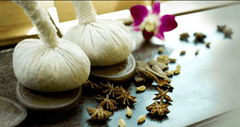 Whomever said that spa treatments are just to relax, never experienced the ones that go beyond relaxation and additionally treat an ailment. An old-time Thai remedy that is still used today, the Six Senses Thai Herbal Poultice, offered in
Six Senses Laamu
 in the Maldives, increases blood flow and circulation, relaxes tense muscles, and alleviates pain and inflammations when applied directly onto the skin. Making your own herbal poultice is easy and the treatment is a great way to fight off the common cold, the flu, and viruses. The skin, our body's largest organ and one of the first lines of defense against disease, quickly absorbs the herbs' medicinal benefits for instant relief of stress, aches and pains. All ingredients are found on the islands of the Maldives, as well as in many of our supermarkets and pantries!
Six Senses Thai Herbal Poultice Recipe
What You'll Need: Fresh or dried herbs including Kaffir Lime, Galangal, and Lemongrass. (Before making your poultice with other herbs, be sure to research their properties to ensure they aren't irritants.) Yarn/Thread White Cloth Bowl for mixing
Steps
: · Put 1 cup of each herb in a bowl and mix it well. · Take a large handful of the herbal mixture and place it into the center of your cloth, making a firm bundle (no bigger than a tennis ball in size.) · Tie the top with yarn or thread to create a handle for your poultice, keeping it tight so it will not become loose when in use. · Using a steamer or a hot pot, boil water and drop in the poultices until steamed, about 30-45 minutes. · For application, first check the heat of poultice on the inner forearm. Once the temperature is to your liking, place with pressure on the body on areas that are tense and or painful up to 30 minutes. · Use your Thai Herbal Poultice up to 4-5 times each before making a new one. If you found this DIY beauty post helpful, please Like, Share and Pin it!
Subscribe to A Girl's Gotta Spa!
 Watch our reviews on 
YouTube
, see our pins on 
Pinterest
 and check us out on 
Instagram
 and 
G+
. Got a Kindle? 
We're on Kindle too
! 
Shannon on G+