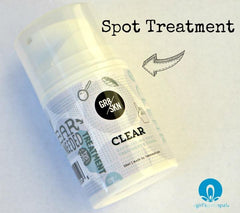 Teen skin issues
are in full force in my house. Thankfully my sons have taken an interest in caring for their skin and always come to me with questions about how to clear up blemishes, moisturize and cleanse their skin, and for my oldest, asked my husband to show him how to shave. Whether you are a teenager or an adult battling blemishes, a spot treatment is a must-have to keep on hand.
GR8SKN
from Teenceuticals is a new skin care line targeted to teens and those in their 20's, and let's face it, teen skin and adult skin do differ in how it combats and recovers from acne. (Not to mention male skin from female skin, but that's a whole other article.) GR8SKN products are paraben-free, sulfate-free and cruelty free. Gavin is the one who tends to breakout the most, so he was all for testing out GR8SKN's Clear Exfoliating
Spot Treatment
and Toner. Clear uses an airless pump and recyclable packaging. You can't really control how much product you pump out though, but we were able to get around this by barely pressing down on the pump so that a small amount of product would come out. This spot treatment had an herbal fragrance, which Gavin said he didn't mind. The texture is thin and silky without being greasy and quickly absorbed into his skin. Ingredients for this acne spot treatment are Mandelic Acid (from almonds), willow bark, Irish moss, chamomile, geranium, rosemary and lavender oil. It didn't dry out Gavin's skin like most teen acne treatments do and seemed to be effective in calming the inflammation of his blemishes. With it being the only blemish spot treatment in the house, I've taken to using it as well. (I really wish I could've left pimples back in my 20's.)
Has your teen tried it?
Subscribe to A Girl's Gotta Spa!
 Watch our reviews on 
YouTube
, see our pins on 
Pinterest
 and check us out on 
Instagram
 and 
G+
. Got a Kindle? 
We're on Kindle too
!