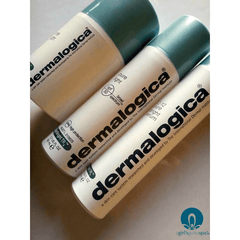 I'm paying for the skin sins of my youth in hyperpigmentation and an abundance of dark spots from both acne and lack of sunscreen usage. Over the years I've learned how to best conceal them with makeup in order to fake a great complexion. However, when the makeup comes off nightly, reality sets in and it is not pretty. There are plenty of times when I am simply makeup-free (due to lack of time, exhaustion or simply not feeling it) and I'd really rather not have my face look like a leopard. Or, as they say, "
Showing my age
." Your skin is your canvas, if it looks great, you'll need much less makeup in order to conceal imperfections. I think of my skin as an investment and makeup should be just to dress it up - not to fix it. Now there's nothing out there that will completely undo all of the photodamage, acne scars and marks, but there are skin care products that will do a substantial amount of work to help minimize the appearance of the damage done. Designed to be layered onto the skin for optimum efficacy and integrated into any existing Dermalogica regimen, the PowerBright TRx Trio are silky-smooth, peptide-rich formulas that work around the clock for the brightest, most even skin tone. In the trio are the PowerBright C-12 Pure Bright Serum, Pure Light with SPF50 moisturizer and Pure Night overnight treatment cream. I've been using it for over a month now to treat the dark patches on my skin and the ruddiness I tend to get around my nose and across my cheeks. There's nothing I want more than to even out my skin tone and spend less on cosmetics.
C-12 Pure Bright Serum
: This is an odorless, lightweight serum that isn't greasy and quickly absorbs into the skin. Use it twice a day after cleansing and prior to the day or night PowerBright skin treatment.
Pure Light with SPF50
: This daytime skin treatment is a creamy white moisturizer that has the initial scent of Noxema, however that scent disappears once applied to the skin. For the first two weeks of using this moisturizer my skin would tingle, but then I noticed it stopped happening with repeated use. The tingling didn't hurt, it was just noticeable as my other moisturizers have never done that. This treatment isn't greasy, is of medium weight and has a strong SPF of 50, which is great as UV rays are what activate melanin production and cause the photodamage to begin with. (This is why in the Summer months when you are outdoors more, your age spots get darker.) My skin felt super soft and supple using both the Pure Bright and Pure Light together.
Pure Night
: This overnight treatment has the consistency of a gel-cream mix with a citrus fragrance. I love how hydrating it is while containing potent dark spot fighting ingredients to really combat the signs of aging while you sleep.
So did I see a difference?
Yes! Mind you, it was not immediate and nor should you expect a miracle transformation from any product right away, but there is a definite noticeable difference in my face after a few weeks of using it. Typically I have to use both a liquid concealer and CC powder just to make my skin look even-toned. However, since using the Dermalogica PowerBright TRx Trio, I've been able to skip the concealer entirely and only use a minimal amount of CC powder. To me, this spells improvement. Not to mention, the big Melasma patch on my forehead has faded significantly. I'm happy with the results and will continue using it.
Have you tried it?
Subscribe to A Girl's Gotta Spa!
 Watch our reviews on 
YouTube
, see our pins on 
Pinterest
 and check us out on 
Instagram
 and 
G+
. Got a Kindle? 
We're on Kindle too
! Disclosure: Sample and affiliate links