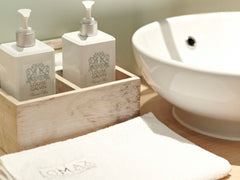 If you're like me, you've wandered around Chelsea, London and wondered where all those glamorous, lean and toned bodies came from. You'd be interested to know that I've found where they are made. A short walk from the Kings Road is Lomax, a boutique health space where you can not only join a cycle or HIIT class, but also enjoy lunch or a smoothie at their ground floor Grill Market café. I recently attended Lomax's signature Cycle Blast class, which was held in a trendy, dark basement studio. Each bike was set up with a clean sweat towel and a water bottle for each user. With only around 15 bikes in the studio, it had a real, personable feel. The class was dynamic and the ultimate calorie burner (exactly what I needed pre-Sunday brunch!) You can expect to burn at least 400 calories per session. With fun tracks and varied exercises ranging from hill climbs to long sprints, this high intensity spin class is definitely worth the sweat! Besides it being a lot of fun, a cycle spin class is a great way to escape – if you're looking for a way to turn off your thoughts, there is nothing quite like being glued to a bike for 45 minutes and having nothing else other than the beat and the rhythm of the bike to concentrate on.
If you're looking for more reasons to start spinning then you'll be happy to know that it is a great stress reliever, calorie burner and muscle toner. It is also a low impact exercise which means that you won't put pressure on your knees or joints. You can also go at your own pace by adjusting the speed and intensity of your bike at various levels.
I was very impressed with the washroom and changing facilities. Unlike most gyms where you shuffle to the shower cubicle – one hand grasping your towel over your body and the other holding your toiletry bag – at Lomax there is none of this. Instead, there are individual bathrooms with towels, shampoo, conditioner and body wash provided with a shower, large mirror, a toilet and wash basin. You really feel at home, not as if you are at the gym and a welcomed luxury when you've just stepped off the bike and your legs feel like jelly! Lomax also offers nutritional advice and personal training. There is a weights area and individual workout pods that can be booked. I strongly recommend checking out their timetable (www.lomaxpt.com/book ) because besides the brilliant Cycle Blast class that I attended, there are many other classes on offer, including yoga and a Bumps and Burpees class for pre and post natal fitness.
Subscribe to A Girl's Gotta Spa!
 beauty blog. Watch our reviews on 
YouTube
, see our pins on 
Pinterest
 and check us out on 
Instagram
. Got a Kindle? 
We're on Kindle too
!