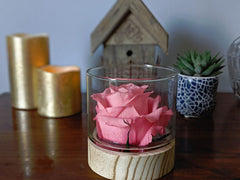 Have you ever wished you could make your roses last longer? I'm sure by now, in your search, you've come across advertisements for roses that last a year. Seems too good to be true, right?
I thought so too, until I got my hands on two roses from Natural Fragrance Rose.
Scent has long been a path to the many touchpoints of the senses. It can relax you, invigorate you, put you in the mood, tap into old memories and help to create new ones.
It's no wonder we love buying and receiving flowers. They brighten up a room and the fragrance can help carry your mood.
Are the Roses in Natural Fragrance Rose Real?
I honestly was skeptical because I've never had a rose last more than 4 days without wilting and drying up. So how would one last a year? I figured that it was just a life-like artificial rose, but I was wrong.
Natural Fragrance Rose is a real, natural rose, and not one that is dried. It is infused during its naturally blooming state with a moisturizing cream so that it can continue to take moisture from the air in order to keep it looking fresh.
You cannot tell that the rose was treated. It literally looks like the stem was snipped off and it was placed in the glass votive-style vase.
Each Natural Fragrance Rose Looks Different
You'll notice from my photos that each rose doesn't look the same. The Elizabeth Natural Fragrance Rose is fuller and larger than the Decadence Natural Fragrance Rose.
Since they are real roses, no two roses look identical.
How do You Care for Your Rose?
To keep your Natural Fragrance Rose going strong for the year that they promise, there are things you should definitely NOT do.
Don't water it. It has all it needs in the special cream it was infused with to keep it alive (which they say is derived from a natural waste material of agricultural sugar production and found in most skin care products.)
Don't place it in direct sunlight, as it will set off the natural process of withering.
Don't place it near a heat source, like a fireplace, baseboard or vent. The air will be dry and the rose will be unable to grab moisture from the air to keep it alive.
Don't take it out of the vase. Most of the roses have a preserving gel on the bottom of the vase that isn't too noticeable, but does solidify over time, so you shouldn't try to take the rose out of the vase, as it could damage it.
Additionally, being handled does have an affect on the petals, so it's just best to leave it alone. I did, however, touch the petals when I first received it because I really couldn't believe my eyes that this was a real rose.
Scented Roses
The two roses I received were Elizabeth (the pink one) and Decadence (the white one.) If you love a good rose perfume, you will love these.
Elizabeth is described as an exotic, Tiaf Rose aroma. Decadence is described as a seductive, Spring garden. They are both incredibly beautiful fragrances.
Natural Fragrance Rose Review
I had meant to write this review shortly after receiving them, but I'm honestly glad things didn't work out that way so that I could give you a true review on the lifespan of these roses.
As I mentioned, I've had them for about 9 months. They arrived in their glass vases, with a non-removable wooden base and a plastic lid.
Both roses were vibrant, and simply put - they were gorgeous.
I kept them away from direct sunlight, dry air and did not touch them with the exception of initially opening them and touching the petals (and just touching the petals today for this review.)
I chose Elizabeth to be the rose I would open most often, and Decadence only had its lid off every now and again (not because I didn't like the fragrance, but because I wanted to test how it would fare.) However, they were both displayed all of the time.
Elizabeth's scent is only faint now and the color of the pink petals are beginning to fade. The fading of color is probably only most noticeable to me since I've watched it over time. If you were someone visiting me and seeing this rose for the first time, I don't believe you'd think it was faded.
It's still beautiful and when you come near it you can still smell its fragrance.
When I take the lid off of Decadence, the fragrance is still strong and the color looks the same, although any fading would be less noticeable since it is white.
When I touched the petals of both roses, they are much drier than when they first arrived. When I first received them, the petals were soft and as if someone literally just cut them hours before and placed them in the vase.
However, without touching the petals, you cannot tell their dry texture because they literally look exactly the same.
Seeing is believing and I so love these roses. Plus, they are only $19, which is well worth the money to have a real rose for a year.
Have you looked into these types of roses for yourself? Feel free to ask me any questions if you're on the fence about them!
Subscribe to A Girl's Gotta Spa! beauty blog. Watch our reviews on YouTube, see our pins on Pinterest and check us out on Instagram. Or check out our natural bath and body line!