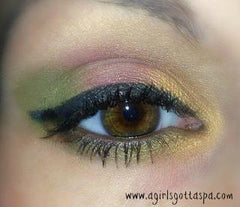 Since I have been receiving frequent requests for how-to's on my eye makeup looks (especially on
Facebook
), I decided to do a step-by-step picture post for my dedicated readers and those to come on a 2013 fall makeup look that I created. I like trends, but I also like to do my own thing, too. Today I opted to create a look that reminded me of a favorite past time of taking fall drives in my home state of RI on the back roads in the small town of Scituate. Just imagine listening to the crunching sound as your tires roll over old dirt roads while staring out at a beautiful reservoir surrounded by vast amounts of huge trees in the prime of fall filled with gold, orange, red, purple, and green leaves…some being whisked away by a gentle breeze. Are you all starting to get why I am in LOVE with fall, and all the more inspired by it? There was not one year in my childhood that went by that I did not take that drive with my mom and family, and then follow it up with apple picking and hot pie a la mode! Just writing about it makes me want to return home right now…but I will patiently wait until October to do that!
To create this New England-inspired 2013 fall makeup look, I decided to use
Smashbox's 24K
(lid and inner corner), Aveda's 991/Antique Gold (brow bone and highlighter),
Cargo's Moreton Bay
(center of my lid), and Aveda's 990/Bronze Patina (outer corner and lower lid). I used Tarte's
Strike a Pose lash set
, which included the
Lights, Camera, Lashes mascara
and the Lash curler.
Cargo HD Picture Perfect Eye Shadow Primer
was used as my base/enhancer to help the colors pop and Rimmel London's
Scandal Eyes Waterproof Gel Eyeliner
was used for my liner to finish it off.
*Quick tip: Blending is one of your most important elements for a nicely finished look. If you notice in the picture before I apply my mascara the colors are popping (but not yet blended), then look at the last picture. Do you see the difference blending makes? Also, don't be afraid to blend and then lightly re-apply where it needs enhancing or contrast (and lightly blend again.) If you are new to applying eye makeup: practice, practice, practice…I promise that you will get it! I am still learning new things too!
How many of you were able to figure out why I put the green (Aveda's 990/Bronze Patina) in the outer corner of my eye instead and the deeper plum color (Cargo's Moreton Bay) in the middle instead of vice versa? I'd love to know what you thought of this New England themed makeup look!
Subscribe to A Girl's Gotta Spa!
 for more beauty reviews! Watch our reviews on 
YouTube
, see our pins on 
Pinterest
 and check us out on 
Instagram
 and 
G+
. Got a Kindle? 
We're on Kindle too
! 
Courtney on G+
. *Disclosure