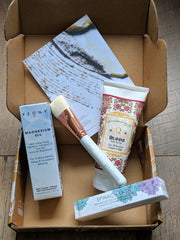 Beauty box subscriptions create for an easy way to discover new beauty products. Finding one that contains products that are are natural, cruelty free and don't contain the bad stuff, is a bonus! Having been a beauty blogger since 2005, sometimes I feel like I've tried everything out there, so I was thrilled to receive
Nourish Beauty Box's November box
with new-to-me brands in it.
How it Works
I like Nourish Beauty Box's flexibility. You can either purchase a box several ways:
Without subscribing for $45
Subscribe to receive boxes monthly for $29.99
Build your own box (price depends on the items you include.)
You can purchase previous boxes that they've offered in the past as well.
Nourish Beauty Box November 2018 Box
November's box is worth $95: Seraphine Botanicals - Contour Brush (full size, $22.00) Seraphine Botanicals - Spinach Lash (full size, $24.00) Peony Cosmetics - Magnesium Oil (full size, $14.00) Rupini Beauty Incarnate Face Moisturizer (this sold out and was substituted with Alma Botanicals - Pure Plant Extracts Hydrating Oil - full size, $35)
Thoughts on this Box
I love that the products are all full size, natural and cruelty free. The Spinach Lash Mascara is really good! It doesn't flake or smudge and there's no scent to it. (Psychologically speaking, when you say spinach, I automatically thought there would be a smell.) The Contour Brush is 100% vegan and the brush is well-made. I've honestly never tried magnesium oil before for my aches and pains, but gave it a shot before bed each night on my neck for the tightness in my muscles, and the sides of my legs where I have bursitis. These are the pains that wake me up all night. The nights that I sprayed on the oil, the pain was much less. I was definitely pleasantly surprised. My favorite of the box was the Rupini Beauty Incarnate Face Moisturizer. This is a blend of almond and virgin coconut oils with sage and geranium essential oils and it is amazing. It's lightly scented and eventually dissapates, but I loved it enough to use it as a hand cream, as well. This moisturizer is good for all skin types. The
Nourish Beauty Box
is well worth the price, and subscribing makes it an even better deal.
Subscribe to A Girl's Gotta Spa!
 beauty blog. Watch our reviews on 
YouTube
, see our pins on 
Pinterest
 and check us out on 
Instagram
. Got a Kindle? 
We're on Kindle too
! Or check out our 
natural bath and body
 line!